Nick Kraft new FCHS Wrestling Coach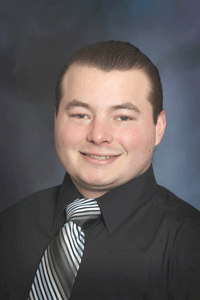 Nick Kraft, a 2007 Falls City High graduate and two-year assistant on the Falls City High football and wrestling teams, was named the new head coach of the FCHS wrestling team.
"Nick Kraft has been offered and accepted the position of Middle School Physical Education Teacher along with the initial coaching assignment of Head High School Wrestling and Head Middle School Football," FC Public School's Superintendant Tim Heckenlivley announced in an email Monday morning.
Kraft is the third FCHS head wrestling coach in as many years and takes over for North Elementary Principal Ernie Valentine, who resigned in February after one season.
Kraft's 2014-15 Tiger wrestling team will be led by current junior Jeremy Zimmerman, who finished fifth in the Class B heavyweight division at the state tournament in February. Kraft loses two-time state qualifiers Morgen Valentine and Chase Thompson, but should return the bulk of a team that included nine freshmen and two sophomores.
Kraft graduated from Peru State College in December of 2012 with a degree in K-12 Health/P.E. and Exercise Science.
Last Monday, the District 56 BOE approved the resignations of teachers Tom Weinert and Karen Flynn and approved the contracts of Susan Findlay as FCHS and FCMS library and Shawn Emerson as North School Principal. In addition, the Board voted to approve a $.10 increase in breakfast, lunch and adult prices for the 2014-2015 school year.