Tiger golfers 4th at Hiawatha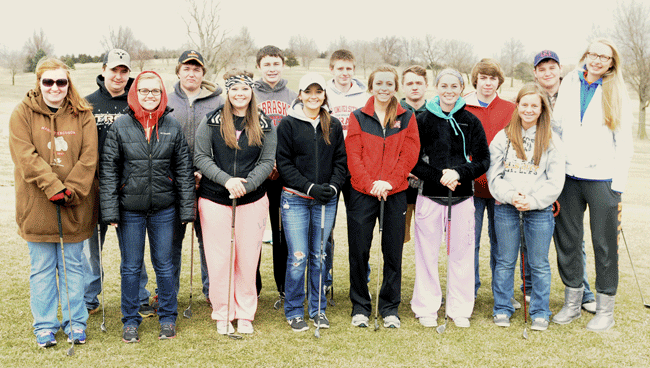 2014 Falls City High Golf Team (front row, left to right) – Megan Vollmer, Carley Youde, Bailey Bindle, Peyton Campbell, Bailey Vrtiska, Bailey Armbruster, Darcy Snethen. Back row – Erik Eickhoff, Cody Frederick, Carter Hunzeker, Aaron Kurpgeweit, Preston Deckinger, Colton Reiss, Brody Weinmann and Jerrica Beckner. Photo by Jim Langan.
---
Falls City High finished fourth Friday at the sun-drenched Hiawatha Invitational, as the Tigers totaled 191 strokes in the 9-hole event held at the Hiawatha Country Club.
Collectively, the Tigers had their best day of the young season, finishing with a team score 22 strokes better than their previous two events, but were without an individual medalist. Senior Brody Weinmann was the low FC score with a 47 and junior Preston Deckinger and freshman Aaron Kurpgeweit each finished with rounds of 48. Colton Reiss and Bailey Vrtiska, both juniors, came in with scores of 50 and 57, respectively.   
Holton, KS claimed the team title with a total of 160, 13 strokes ahead of second-place Sabetha, KS, as the Wildcats  finished with three golfers in the top five and four in the top seven. Kenten Tegethoff finished with a 2-over-par 38 to claim top medalist honors, while teammates Braden Sides (39, 4th), Ethan Holaday (40, 5th) and Walker Degenhardt (43, 7th) rounded out the team scores.
Maur Hill, KS tallied a 183 for third place and hosts, Hiawatha, were three strokes behind FC in fifth place.
The Tigers competed in the Humboldt-TR-S Invite today at Kirkman's Lakeview Golf Course and Thursday travel to Wildwood Golf Course in Nebraska City for an invitational.