Tigers surge late, prevail over NCL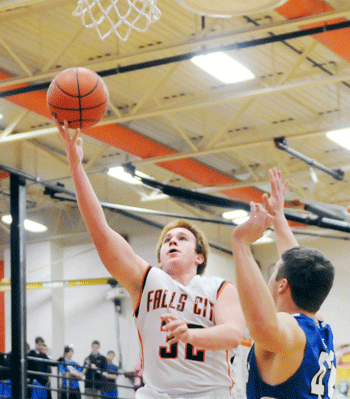 Falls City's Weston Witt scores two of his 14 first half points Friday night during the Tigers 60-58 come from behind victory over Nebraska City Lourdes. Witt, whose lay-up with less than 15 seconds left in the game put FC ahead 59-58, finished with a career and game-high 24 points. Photo by Jim Langan.
The first half belonged to Weston Witt. Jordy Stoller  came through in the second half. But, fittingly, the duo – both juniors – combined for Falls City's biggest play Friday night in the Tigers 60-58 victory over Nebraska City Lourdes.
Leading 58-57 with 19.9 seconds on the clock and Lourdes inbounding the ball from FC's baseline, Stoller jumped the pass from NCL's Noah Vasa to Tom Gress, turned toward the lane from the left block and found a wide open Witt, who completed the sequence with the game-winning lay-up.
Two last gasps from Lourdes came up short and Witt converted the front-end of a 1-and-1 to seal up the victory.
"In the timeout, we told the players we needed to gamble some," Falls City High Head Coach Don Hogue said. "We knew what their press break was and he (Jordy) knew where the ball was going and did what an instinctive player does."
Stoller's swipe at the end of the fourth quarter was by far the biggest steal of his team-leading 40 this season and his defensive pressure late in the game helped FC erase a five-point deficit in the game's final two minutes.
"His defense down the stretch was huge" Hogue said.
Stoller finished with 19 points _ 13 of which came in the second hafl – and his third three-pointer after the intermission cut Lourdes lead to three, 50-47, early in the fourth quarter.
Witt also came through down the stretch with nine fourth-quarter points, including five knee-knocker free throws. But his 14 points off the bench in the first half kept the Tigers close, when points were hard to come by.
"Weston has been such a lift coming in off the bench," Hogue said of his sixth man, who finished with a game-high 24 points. "His ability to knock down the three and he does a great job of getting into the paint and finishing in the paint for us."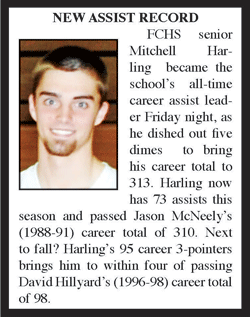 Tiger senior Mitchell Harling had seven of his nine points in the first half, but saw limited scoring opportunities as NCL seemed determined to have someone other than him beat them in the second half. Harling finished with five assists and in doing so, became the new career assists leader at FC.
Junior Jack Hartman led FC with seven rebounds and also recorded two steals.  
Hogue, who now sits one win shy of tying Jug Brown's school-record 193 wins, raved about his team's ability to battle through adversity.
"I can't say enough about the toughness of this team," Hogue said. "When these kids backs are against the wall, they fight harder."
Hogue could tie Brown's record on the road Friday at Auburn (7-10), a team FC has defeated 23-straight times since December of 2005. The Tigers Tuesday road trip tip Platteview was postponed due to weather.
Friday's game with Auburn will tip-off at approximately 7:30 p.m.
Scoring vs. NCL
FC – Witt 24, Stoller 19, Harling 9, Hartman 3, Hogue 3, Mount 2.
NCL – Fabietti 18, Miller 16, Vasa 10, Gude 9, Gress 3, Kochnowicz 2.