Local civic leader, prominent farmer passes away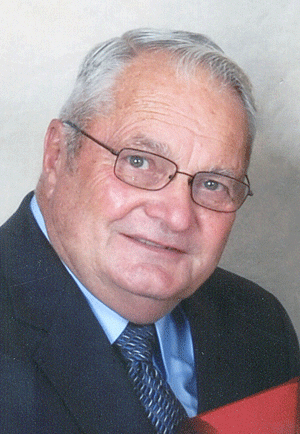 Raymond Finck, a prominent local farmer and civic leader, passed away Sunday night, Jan. 26, 2014 at his rural home north of Falls City. He was 79.
Mr. Finck was for decades a community leader and activist and a major contributor to Richardson County 4-H and Falls City Sacred Heart School. The 1951 Sacred Heart graduate helped design the current Sts. Peter & Paul Catholic Church at 18th and Fulton Streets, as well as several additions to the school campus. At the time of his death, he served on the building and fundraising committee for the proposed Sacred Heart Activity Center. In addition, Mr. Finck was a member of the Falls City Chamber of Commerce, EDGE, Falls City Elks Lodge 963 and the Knights of Columbus. He previously served on the Drainage Board for Levee District #8.
Raymond was raised on the farm and attended grade school at District 30 rural school prior to attending Sacred Heart. He farmed his entire life and especially close to his heart was the Sacred Heart Family.
A Mass of Christian Burial will be held at 10:30 a.m. Thursday, Jan. 30, at Sts. Peter & Paul Catholic Church, with Msgr. Robert A. Roh officiating. Interment will be in the Falls City Catholic Cemetery. Military graveside honors by the Falls City Ceremonial Honor Guard. A Rosary will be recited at 7 p.m. Wednesday at Dorr & Clark Funeral Home of Falls City. The family will receive friends following the Rosary.
Raymond Finck was born April 21, 1934 at the family farm north of Falls City to the late Elmer and Helen (Kelly) Finck.
He joined the National Guard in 1956 and served as Company B Commander for five years before resigning in 1966. He was called to active duty on April 6, 1957 and returned to the his guard unit on Oct. 5, 1957.
On Nov. 29, 1958 he married Ruth Ann Duder at Burchard. She survives of the home. Other survivors include his daughters, Betty Finck, of Lincoln, and Janet (Kevin) Malone, of Falls City; sons, Michael (Cheryl) Finck, of Falls City, and David Finck, of Normal, IL; sister, Mary Kathryn Kreifels, of Falls City; and seven grandchildren.
Ray was preceded in death by his parents and a granddaughter, Jennifer Malone, in infancy.