Tigers, 9-1, sweep holiday tourneys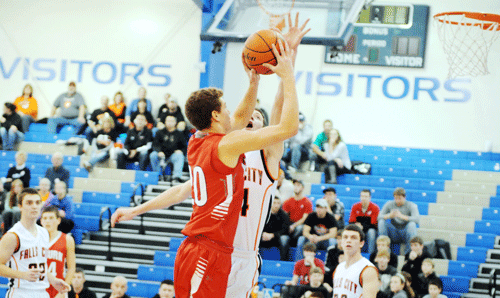 Falls City High finished off an unbeaten holiday run Saturday in Peru with a second tournament championship in as many weekends.         
On the heels of back-to-back championships at the Bishop LeBlond tournament, the Tigers defeated Auburn 45-34 in the championship game of the Southeast Nebraska tournament, hosted once again by Peru State College.
The win marked the 22nd consecutive win over the Bulldogs for by Tigers, who, just 22 days prior, dominated the Dogs in FC to the tune of 64-28.
Give Auburn credit for shaving off roughly two-thirds of their previous deficit total, in large part by taking care of the basketball. The Tigers forced half as many turnovers (14) Saturday as they did on Friday the 13th and the game played out as such.
The first quarter saw six ties and three lead changes, but the Tigers managed a 27-20 lead at the halftime break, then added to it in a low-scoring second half.
Neither team shot particularly well, as FC finished 12-for-33 from the floor, while the Bulldogs connected on 14-of-33 floor attempts. The difference came at the free-throw line where FC held a significant 18 to four advantage in made free throws. Auburn reached the stripe just 10 times compared to the Tigers 26 attempts.
It was the fifth game in nine days for the FC and head coach Don Hogue credited his team for battling through some fatigue
"We played sluggish and tired," Hogue said. "Shots came up short and we just didn't finish around the rim like we have done over the break." 
Tiger senior Mitchell Harling capped off a great five-game stretch with a game-high 17 points and six assists. Harling knocked down 11-of-20 three-point attempts and averaged more than 15 points per game at the two tournaments. His
21-point effort in the Tigers championship game victory over East Buchanan in St. Joe propelled him to tournament Most Valuable Player honors.
With more than half of the season left to play, Harling, who is connecting at a 51-percent clip from behind the arc, needs 13 three-pointers to break David Hillyard's (1996-98)career record of 98.
Jack Hartman, the Tigers leading rebounder through 10 games,  added 11 points, eight rebounds and four assists  Saturday.
FC handled Bayard (Yes, it's located in Nebraska. I looked it up.) Friday night, 66-34, in the tourney opener, as junior Jordy Stoller knocked down a pair of three-pointers and 7-of-10 shots from the floor to lead FC with 18 points. Hartman led the Tigers with seven boards; junior Weston Witt dished out five assists to go with two steals and five points; and senior Cody Schawang joined Stoller with three steals.
Bayard, a class C2 school located approximately 25 miles east of Scottsbluff and only a few miles from Chimney Rock, perhaps suffered from some road weariness against the Tigers. Bayard finished 14-of-41 from the floor and turned it over 16 times in the loss to FC. They bounced back Saturday in the consolation game with a 46-42  win over Johnson-Brock.
FC, now 9-1  and in the rankings today at No. 8 in C1 by the Omaha World Herald, travel to Marysville, KS, tonight, then to Johnson-Brock  Thursday before returning home next Tuesday against Tri County.
Scoring vs. Auburn
FC – Harling 17, Hartman 11, Hogue 7, Witt 6, Stoller 5.
Aub – Nelson 10, Frary 7, Wynn 5, Halfhill 4, Frenzel 4, Dauel 2, Lambert 2.
Scoring vs. Bayard
FC – Stoller 18, Harling 14, Hogue 8, Hartman 7, Witt 5, DiGiacomo 5, Jordening 2, Heckenlively 2, Schawang 2, Stutheit 2, Mount 1.
Bayard – D. Schuler 8, P. Schuler 6, Kadayso 6, Baird 5, Hargens 4, Cox 2, Fiscus 2, Blanco 1.