Ron Kelley to be enshrined in Nebraska Baseball HOF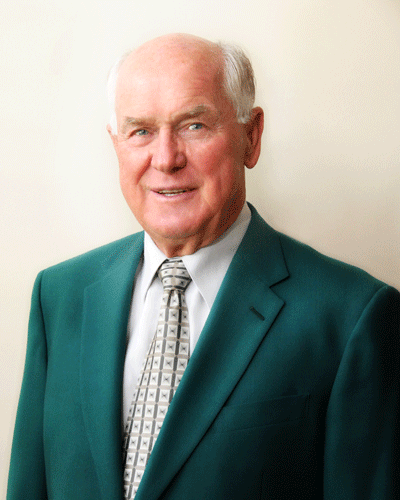 A love affair for America's Pastime, which started shortly after World War II on a sandlot at the south edge of Falls City, will come full circle for life-long Falls City resident Ron Kelley, who, in February, will be one of six 2014 inductees into the Nebraska Baseball Hall of Fame.
Kelley, a 1959 graduate of Falls City High and later a two sport standout at Peru State College, will be officially introduced on Sunday, Feb. 9 at the NBHOF's annual banquet at Aunt Mary's Event Center in Beatrice. Fellow Class of 2014 inductees include Bob Schneider of York, Jeff Hunter of Omaha, Omaha Public Schools and Benson High Hall of Famer Edward "Scotty" Orcutt, Kansas City Monarch Mickey "Little Satch" Stubblefield who hailed from Kentucky but finished his distinguished career in McCook, and Glen "Red" Neujahr of York.
Kelley was notified of his selection to the Hall of Fame in early November by Falls City native and Nebraska City resident Joe Miller, who called Kelley "the best left-handed pitcher" he had ever seen in a letter of recommendation he wrote on behalf of Kelley.
"I thought maybe somebody was pulling my leg," Kelley said with a laugh about the phone call. "I didn't know what to think, but my first thought was, 'Am I really deserving of this? Am I really deserving of being in the Hall of Fame? How did I get in?'"
Kelley's reaction to the phone call and immediate square dance with humility should come as no surprise to anyone fortunate enough to spend time with him, so the honor took some time to sink in Kelly said.
"I have never really been much into stats and hadn't really had an idea of what I had done, so when I started looking at some of this stuff I thought, 'Well maybe I did qualify to get in it.' Some of the players who are in the Hall of Fame I know them and thought I was maybe at least at their level."
Ron, now 73-years-young, and his three sisters – one older and two younger – were raised by Mr. and Mrs. Berthal Kelley on the south end of Stone Street in Falls City, which, conveniently, was located close to City Park where he would later star as a hard-throwing left-handed pitcher and first baseman for the Elks Midgets and American Legion baseball teams.
He first honed his skills on a lot located west of the old Southside Inn (now Just One More) bar.
"Heck, we were little and we would go play there every Saturday and Sunday afternoon, and it just continued right on up to PeeWee's," Kelley said. "Baseball was always so much fun to play. It's not like football where you wake up the next morning and you're stiff and sore. You can play every day and there are so many skills involved."
The game came natural to Kelley, who made his mark early on as a member of the Elk's Midgets. As a 15-year-old, he tossed his first of three career no-hitters in a 10-0 victory over Talmage. Kelley struck out 13 that day and just three weeks later his no-hit bid against Syracuse ended with one out in the top of the seventh. He earned the victory, however, by fanning 16 batters in a 1-0 shutout. Kelley was fine with the lumber as well and finished the summer with a team-best 20 hits and a .488 average. The 1956 Midgets team, coached by long-time skipper Tim Zinn, finished with a 14-3 record.
Still with the Midgets in 1957, the nickname "Machine Gun" made its first appearance in the Falls City Journal after he whiffed 20 out of a possible 21 Hamburg, Iowa batters in a 6-0 shutout and finished the summer with 150 strikeouts in 79 innings pitched – nearly two K's per inning – and allowed only 45 hits.
After graduating from high school, Kelley went on to Peru State College where he starred in both baseball and football. During the span of five weeks in the spring of 1961, Kelley jacked three homers at the plate and pitched a two-hitter in a 7-0 victory over Wayne College, then held Creighton University to three hits on the mound and recorded a double and a home run in a 3-1 victory.
Kelley led the Bobcats to the Nebraska College Conference championship in 1962 and finished 7-0 with a 1.85 earned run average, which earned him a nomination for the World-Herald State Collegiate Athlete of the Year Award. but lost out to Hastings College standout Jack Osborne, whose older brother, Tom, won the award in 1958 and went on to be a decent football coach.
Following his senior season of 1963, Kelley was recognized by the NAIA as a Statistical Champion for his average of 16 strikeouts per nine innings pitched, which according to the NAIA's website would still stand as a single-season record.
Kelley wrapped up his four-year athletic career at Peru State with four letters in baseball, a 20-11 record and 2.11 ERA, including 286 strikeouts in 186 innings. On the gridiron, he tallied more than 1,100 yards rushing and was a three-year letter-winner.
Professional scouts frequented the stands during Kelley's outings and a 16-strikeout performance against Creighton caught the eye of one in particular, Boston Red Sox scout R.B. Rice, who inked Kelley to a professional contract with their minor league Class A affiliate in Waterloo, IA, following his senior season.
The move to Waterloo wasn't sudden though, Kelley said and the time off hurt him.
"I hadn't pitched much after getting out of Peru and really didn't feel like I had time to get in shape before I went to Waterloo," Kelley said. "I started in two or three games there and I just did terrible. I didn't have any control and it just wasn't working."
This led to Kelley being moved to the North Carolina where he played the second-half of the summer for the Statesville Owls, a rookie-ball team in the Western Carolina League. Kelley said the move to Statesville was made to allow him a better chance to work more often and give him more experience.   
He earned his first professional victory that summer against Spartanburg, a rival team from neighboring South Carolina, and started 13 total games for the Owls, finishing the season with a 3-7 record and a respectable 3.55 ERA.
The following spring, Ron, his wife Nancy and their eight-month old daughter, Jill (Peterson, now of Omaha), left for De Land, Florida, where he reported to spring training for the Seattle Raniers, the Red Sox Triple-A affiliate from the Pacific Coast League.
"When I went to spring training that second year, they had signed a lot of ball players that previous winter and I was recovering from a hernia operation, so I wasn't in very good shape," Kelley said. "That probably hurt me as far as making it on the Seattle roster."    
Kelley was sent to the New York-Pennsylvania league as a new member of the Wellsville (NY) Red Sox, where he accumulated a 4-8 record in 26 appearances.
He returned to spring training in 1965, but said he never knew where he stood with the manager and in the dog-eat-dog world of professional sports, a world where according to Kelley, "The only way you know you are doing well is if you are doing well," the writing was on the wall that this might be the end.
The dream of reaching the big show was over, but Kelley never lost his love for the sport and continued to play semi-pro or town team baseball into his mid-30s. Kelley pitched for teams in Stanton, IA, and Westpoint, NE (Dodge County League) and also helped the 1970 Lincoln Moose and 1971 Garland teams to Nebraska State Championships. Kelley, who had previously hurled a no-hitter for Garland in the 1969 Nebraska State Tournament – a feat recognized by the National Baseball Congress of America – did it all during the series-clinching 2-0 win over top-seeded Papillion in 1971. Kelley pitched a four-hitter with six strikeouts and scored the eventual game-winning run in the top of the fifth on a 380-foot solo homer to right field.  
Ron and Nancy welcomed two more daughters – Amy (Fish, of Seward) and Gina (Dennis, of Overland Park, KS) – into the world during the years immediately following his run for the majors and in 1973, after stops in Wood River (NE), Waterloo, Statesville, De Land and Ocala (FL), Wellsville and Tabor (IA), the Kelley's returned to Council Bluffs and Lewis Central Elementary where Ron spent the next 24 years as a principal.
Kelley retired in 1997 and soon after, he and Nancy moved back to Falls City, where they have lived to this day. Proud grandparents of seven, the two enjoy golfing, spending time with friends and family, traveling and of course, baseball.   
"I was not always a big spectator of the sport, but have become one as I've gotten older," Kelley said. "Now, Nancy and I will sit down and watch every televised game of the Royals (Kansas City) and it's been a lot of fun following them over the years."
When asked if he told his grandchildren stories of his old exploits on the diamond, Kelley responded the only way he knows how, modestly.     
"I never talked much about it," he said. "I didn't want them thinking about me. I wanted them focusing on themselves."
Kelley said this nomination and pending induction into the Hall of Fame has perhaps caught their attention and then, with a smile wider than home plate, Kelley added, "All of this has maybe piqued their interest."