North School stars 'Twinkle & Shine'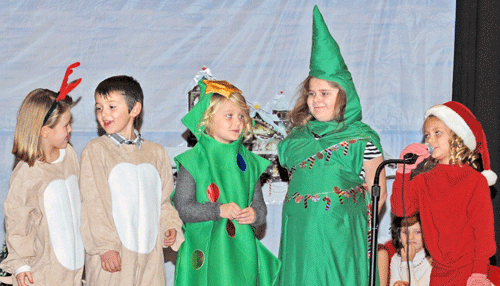 ---
In Christmas partnerships, few rival the decorated tree and its star on top. The star, however, seems to lack the adulation or recognition of its counterpart.
Never has Charlie Brown and friends sang about the final ornament on their tannenbaum. Clark W. Griswold wasn't looking for a star when he loaded up his family in the front-wheel drive sleigh and headed out in the country to kick off their fun, old-fashioned family Christmas.
Falls City North Elementary School 1st and 2nd grade students, under the direction of Robin Ankrom, flipped the script in the star's favor last Tuesday in front of a packed house at Prichard Auditorium.
The musical – "Twinkle & Shine" – was performed by a full chorus and cast of 30, and celebrated the light at the top of three. The six-song set began with "Gotta Get a Tree" and ended with the full cast and chorus singing, "The Light at the Top."
Two leads, Tatum Kile and Mikaela Hawley (pictured below, Hawley on left), played the title roles of "Twinkle" and "Shine." Other cast members included Tate Wilcox, Kaitlyn Kirkendall, Mylie Crawford, Jolena Bassett, Harmony Hall, Robert Gilkerson, Izzy Armbruster, Malesa Wickham, Leo Linderman, Caleb Zimmerman, Mckenzie Johansen, Emilou Schulenberg, MaKayla Eberle, Makinley Scholl, Ciera Scarberry, Jozie Kirkendall, Danyelle Kuker, Grace Morris, Wyatt Olberding, Kemper Foster, Gannon Ogden, Eric Heinzelman, Ethan Pfohl, Kaleb Zulkoski, Katelynn Titus, Camden Everhart, Nebade West and Hunter Adams.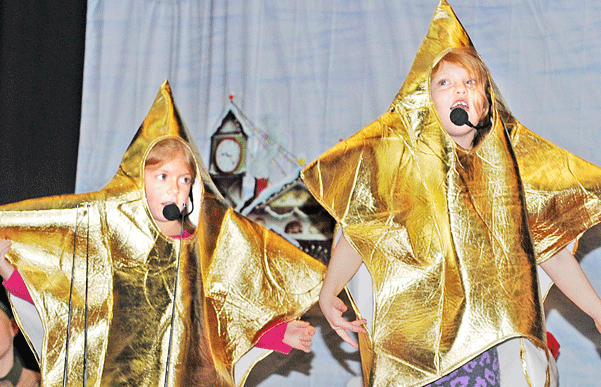 The North Elementary kindergarten students, also under the direction of Mrs. Ankrom, separately performed, "The Christmas Candy Calender" by Robert Maxwell. Chase Simpson, Elizabeth Vice, Brooklyn Denton, Elijah Canonico, Carlea Dunkhas and Kyleigh Furnas filled the roles of the "Christmas Candy." The entire class sang the songs, "Tis the Season Once Again" arranged by Tom Anderson, "Rise Up Shepherd and Follow" arranged by Emily Crocker and "The Chipmunk Song" words and music by Ross Bagdasarian.
The Christmas production, which was again sponsored by Partners In Education and Falls City Public Schools, was Mrs. Ankrom's 35th since starting at North and South Schools in 1980. Mrs. Ankrom will direct the South School students' spring concert at Prichard Auditorium.