FC hammers Auburn for 21st-straight time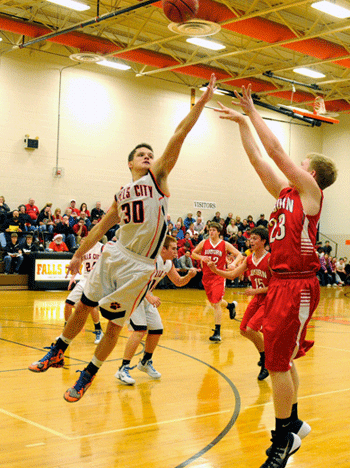 For decades Falls City High School hasn't competed in an athletic conference, the place, let's face it, where rivalries naturally germinate and, if nurtured precisely and consistently with just the right amount of bad blood, bloom.   
It's a natural occurrence. You can't, for instance, manufacture bad blood by mixing a color challenge with the persistence of Father Time. Hence the end – for the immediate future, anyway – of the some 40-year Falls City-Hiawatha basketball series Tuesday was as scintillating as Kevin Scheitel and a handful of plastic mistletoe, watered down with 37 free throws and a 68-61 FC victory.
And since it takes two to draw bad blood, the Auburn-Falls City rivalry is currently withering on the vine, as the Tigers beat the Bulldogs Friday night for the 21st consecutive time, dating back to January 2005. The one-sidedness of the series was illustrated quickly, as FC jumped out to a 23-5 lead and sent Auburn back ho-ho-home with a 64-28 gift. The Bulldogs can in theory return it Feb. 7 in Auburn, but Don Hogue's Tigers long ago got stingy on refunds. No refunds, no rivalry.
Stingy is Falls City's modus operandi. The now 3-0 Tigers, in their first home game of 2013-14, forced 28 Auburn turnovers (seven different Tigers recorded steals, led by junior Jack Hartman, who had four) Friday and limited the Bulldogs, which improved to 3-2 Saturday with a one-point win at still-winless Elmwood-Murdock, to a woeful 12-of-51 shooting performance from the floor. No Bulldogs scored in double figures, but again, that's just what you'd expect from the Tigers' defense.
Last week Falls City added solid offense to its repertoire and the combination of the two was encouraging to Hogue and FC, whose Christmas list is full of Ws, nothing else.
"We came out playing really hard and sharing the ball extremely well," Hogue said. "It was a total team effort and we shot the ball well again – I like how we're shooting."
What's not to like?
Friday, senior guard Mitchell Harling drained 4-of-6 three-point attempts en route to 18 game-high points, and the team made 7-of-15 threes to go with 13-of-16 free throws.
Tuesday, it was senior Tyler DiGiacomo striking from long range, making 4-of-7 threes and all four of his free throws in scoring a game-high 18. Junior Jordy Stoller added 15 points on 7-of-8 shooting from the field and the Tigers collectively hit 8-of-16 from three-point land. That's 15-of-31 for the week in an area that's for years been a thorn in FC's side.
Free throws, too, were a strength all week. Tuesday's 22-of-31 shooting from the stripe (Harling and Ryan Mount each went 5-of-6; and senior Reese Hogue hit 4-of-6, to go with a team-high six boards) was followed up by 13-of-16 shooting on the home rims. Mount, who's athleticism and size often get him to the rack, made 6-of-7, bringing him to 11-of-13 on the year. Harling (15-of-16), Stoller (14-of-17) and DiGiacomo (6-for-6) have FC making 78 percent of their foul shots thus far.
They needed them Tuesday to  potentially avoid upset at Hiawatha. The Tigers opened up a 38-26 halftime lead, but saw it dwindle down the stretch as the officiating grew tighter as the game progressed.
"We felt kind of handcuffed," Hogue said.
But FC nailed it down at the line. Reese Hogue, after missing a couple early in the fourth, made both ends of a pair of critical 1-and-1's and Harling made his five in the final period.
The Tigers are home again tonight (St. Joseph LeBlond), and Saturday (3-1 Class B Plattsmouth). The Blue Devils opened the year with a 23-point win over Auburn and have since beat Nebraska City and Schuyler while losing to Norris.
Scoring vs. Auburn
    FC — Harling, 18; Stoller, 10; Hartman, 9; Wit, 7; Mount, 6; Hogue, 5; DiGiacomo, 4; Schawang, 3; Jordening, 2.