Four Tigers medal in season opener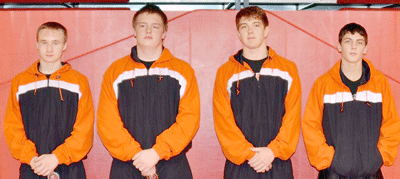 Falls City High wrestlers traveled to Wamego, KS for their first competition of the 2013-14 wrestling season and brought home four medals.
Junior heavyweight Jeremy Zimmerman captured first place and was the top FC finisher. Morgen Valentine, a 145-pound sophomore, finished second, while senior 195-pounder Chase Thompson was fourth, as was freshman Deven Nycum at 132.  
A 12-man scramble format was used, which allows wrestlers more matches than a traditional bracketed tournament. It also allows junior varsity wrestlers to enter the tournament as nonscoring participants to fill the weight classes.
Falls City entered 12 varsity wrestlers into the tournament and came home with four medalists.  
The Tigers are busy next week with the JV team competing at Nebraska City tonight, then again Friday at Syracuse. The varsity wrestlers travel to the Crete Invitational Saturday with wrestling scheduled to start at 9 a.m.