Irish cap off perfect season, rout Stuart 63-14 for Class D2 title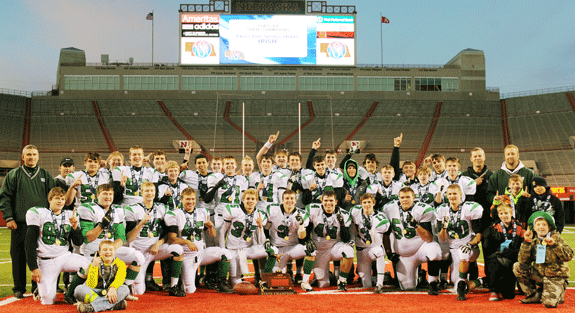 Perfect. Unblemished. Flawless.          
Words that came to mind Monday evening to describe Falls City Sacred Heart's 2013 season, after the Irish put on a clinic in a 63-14 rout of Stuart in the Class D2 State Championship at Memorial Stadium in Lincoln.
FCSH Head Coach Doug Goltz chose the latter of the three words above to illustrate his team's performance and rightly so, as his senior-led team played their best game, on the last day, under the brightest lights.
"It was pretty flawless," Goltz said. "About everything we called was working. We didn't make many mistakes. We didn't turn it over and I think we had one penalty, so our kids just played great football. I can't say enough. They are smart, really smart players."
The Irish scored eight-straight touchdowns during one stretch of the game, converted 8-of-9 third downs and committed just one penalty to win the storied school's first state football title in 19 years and seventh overall. Though they've reached the state playoffs an ongoing state-record 27 consecutive seasons and only two schools – Creighton Prep and Humphrey SF – have appeared more times, this was Goltz and Sacred Heart's first appearance at Memorial Stadium.     
Goltz told his team prior to the game to forget the potential butterflies created from playing on the big stage because the stress from a playoff run culminated with them reaching the state final.
"I just told them that there was no pressure," Goltz said. "The pressure was the 12 games to get here. Last week and the playoff games were all pressure because it could be the last game. Well now today, we knew it was the last game and we just needed to go play. Forget the pressure, forget the scoreboard and just go out and make plays. I think we did that."
Conversely, Stuart struggled mightily, despite scoring the game's first touchdown. Stuart junior quarterback Alex Kunz, who entered Monday's game with nearly 3,000 yards of total offense, finished the day with 70 yards rushing and constantly faced pressure from the Irish defense on pass attempts.
The Broncos converted a big third-and-10 from their own 15-yard line to set up the game's first score. Kunz floated a short pass over the outstretched hands of Irish senior defensive end Daniel Keithley and was caught by Stuart's Mitchell Dvorak, who raced 47 yards to the FCSH 18-yard line. Stuart scored four plays later, tacked on a two-point conversion and led 8-0 with 8:50 remaining in the first quarter.
False hope was all the third-down conversion provided, however, for those donning maroon colors. Goltz said the Irish were a little too aggressive on that play and Kunz made a perfect pass, but credited his defense for how they adjusted after the Bronco's touchdown, holding them to five punts, an interception and a turnover-on-downs on their next seven possessions.
"They got that first big play on third down because I think we were just a little out of position," Goltz said. "I thought Dan (Keithley) was going to get a pick-6, but it got them the short field and the touchdown. After that I thought our defense did what it was supposed to do. We started playing our game."
Sacred Heart scored the game's next 56 points, which included five TD passes to four different receivers, a 43-yard punt return TD and a pair of rushing touchdowns. Senior Colin Niemeyer caught the first Irish TD of the game – a 14-yard effort in which Niemeyer absorbed a big hit from a Bronco defender as he crossed the goal line. Then it was fellow senior, Sean Strasheim, who found himself ridiculously wide open for a 23-yard TD reception.
Following another Bronco three-and-out, FCSH's Austin Malone took the punt return 43 yards for the score. Senior quarterback Chaz Dunn tacked on an 11-yard TD scamper, which was followed by a 12-yard TD catch by Sawyer Kean and a 58-yard TD catch by Malone that took the Irish into the locker room for halftime with a 42-8 lead.
Kean scored his first of two rushing touchdowns on the second play after the intermission, then Malone hauled in his second TD grab of the game on the Irish's next drive to complete the 56-0 run.
Dunn directed the Irish offense masterfully in his final start, finishing 11-of-16 passing with 234 yards, five touchdowns and no interceptions. His 2013 campaign will be tough to top, as he set single-season records for passing yards (1,972) and touchdown passes (36).
Strasheim and Niemeyer each finished with two catches for 34 and 30 yards, respectively.
Kean, who carried 17 times for 134 yards and two scores Monday, was outstanding in the playoffs. In five games, Kean rushed for  864 yards and 14 touchdowns on 93 carries. Malone finished with a game-high three receptions for 95 yards and two scores and Logan Scheitel caught two passes for 32 yards. Look for this trio of juniors to carry the torch next year.
Senior kicker Yianni Haralabidis seemed inspired by the confines of Memorial Stadium, easily connecting on all nine extra-points. He also booted seven touchbacks in 10 kickoff attempts.
Keithley led the Irish defense with three quarterback hurries, two-and-a-half tackles-for-loss and one sack, to go along with seven total tackles. Strasheim added one sack and recorded the lone Irish takeaway – a second-quarter interception that setup Malone's 58-yard TD catch. Seniors Jarod Fiegener and Brandon Schawang led the Irish defense all season long, but, by their standards, had quiet games Monday. Fiegener finished with seven tackles, three of which were solo, and one tackle-for loss, while Schawang tallied two solo stops and five total.  
Goltz pulled his starters after the start of the fourth quarter and the celebration began along the west sideline
"It was a great season, just a great group of players and a great senior class," Goltz said. "That always helps when you've got a big senior class and competitive kids who play together."
Goltz added that the mixture of experienced seniors and seniors who waited to get their opportunity, as well as the juniors and sophomores who contributed, proved to be the recipe for perfection
"There was a bunch of seniors who had played a lot the last two or three years, but then you throw in guys like Eli Ramer, a first-year starter who did a great job for us on the line, and Dan Keithley, just a great defensive end and good center. All of them are just good kids who play hard together and are just a great team to coach."
STATISTICS:                       
                          FCSH     STU
 FIRST DOWNS      24     13
   Rushing     14     7
   Passing     9     6
   Penalty     1     0
 RUSHING ATT.-YDS      32-206     32-111
   Avg. per rush     6.4     3.5
 PASSING YARDS      243     161
   Comp-Att-Int      12-17-0       11-25-1
   Avg. per pass     14.3     6.4
   Avg. per completion     20.2     14.6
 TOTAL OFF. YARDS      449     272
   Avg. gain per play     9.2     4.8
 FUMBLES NO.-LOST      1-0     0-0
 3rd-Down Conversions      8-9     2-11
 4th-Down Conversions      0-0     1-3
 Possession Time      22:42     25:18
 Red-Zone Conversions      4-5     2-4
Other team statistics     FCSH     STU
 PUNT RET.-YARDS      4-54     1-2
 KICK RET.-YARDS      2-48     3-47
 INT.-YARDS      1-9     0-0
 FUMBLE RET.-YDS      0-0     0-0
 PENALTIES-YARDS      1-6     6-40
 PUNTS-YARDS      1-40     5-172
   Avg. per punt     40.0     34.4
   Net punt average     38.0     23.6
   Touchbacks     0     0
   Inside 20     1     0
   50+ yards     0     0
   Fair catches     0     0
 KICKOFFS-YARDS       10-492       3-145
   Avg. Yards Per Kickoff     49.2     48.3
   Net Yards Per Kickoff     34.0     27.3
   Touchbacks     7     1
 Sacks By: Number-Yards      3-31     0-0