Dunn named Elementary P.E. Teacher of the Year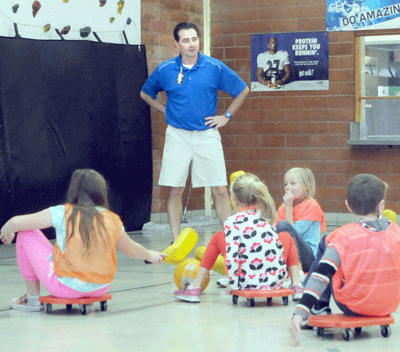 Joe Dunn, physical education teacher at North and South Elementary Schools, was selected as Elementary Physical Education Teacher of the Year by the Nebraska Association for Health, Physical Education, Recreation and Dance (NAHPERD).
The honor was presented at the 2013 NAHPERD Fall Conference in Lincoln Nov. 4-5.
NAHPERD recognized Dunn for his program that keeps students active for at least 70 percent of the physical education period and cited him for providing a physical education philosophy that always promotes the adoption of a physically active lifestyle that persists throughout adulthood.
Dunn emphasizes individual responsibility for one's own health and fitness in the new physical education, which is built around aerobic and heart healthy activities.
"When teaching physical education, I believe one needs to be highly motivated and possess great enthusiasm," said Dunn. "A great physical education teacher is a role model and knows success comes from hard work and commitment. A student must have a healthy self-concept and must know their worth not only as a human being, but in the total learning environment."
Dunn also believes that a great physical education teacher leads by example and he or she must set the bar high by maintaining a healthy body and healthy mind concept. He exercises on the elliptical every day during his lunch period, demonstrating to his students that he practices what he preaches. He also reads while he exercises to show that a person must exercise the mind as well as the body.
"Most importantly, we as educators must strive for each student to gain personal satisfaction in meeting challenges not only in physical education but also in life," said Dunn, who has taught Health and PE at FCPS for the past 13 years.
Dunn's students learn that aerobic endurance, body composition, strength, endurance and flexibility are at the forefront for learning basic fitness and he introduces students to a new bone, organ or muscle each week to make students understand the body their fitness will give them.
Music also plays a big part in Dunn's program. He uses music as a class management tool with students starting and stopping activities according to music.
"When music is engaged, children are moving and active. Music is played in my units as well as my skill development activities. Music makes my program enjoyable for my students as well as myself."
Dunn attributed some of the success of his program to two Carol M. White PEP grants received for the 2003-04 and 2004-07 school years. Behind a team of two grant writers, Dunn and Diane Schnitzer of Nebraska City led teachers from five school districts in the first grant and 12 school districts in the second grant to advance physical education in southeast Nebraska.
The curriculum, grading procedure and skill development was all in place, but funds provided by the PEP grants turned his program from great to superior. They equipped his physical education program with FitnessGram physical fitness testing, pedometers, game bikes, Dance-Dance Revolution, cup stacking, juggling and a climbing wall.
"I have always valued my students for the effort they give as well as their accomplishments," Dunn said. "Once a positive attitude toward movement and exercise is created, the student will be on the fitness highway."