Traditional 8-man powers square off again at Jug Brown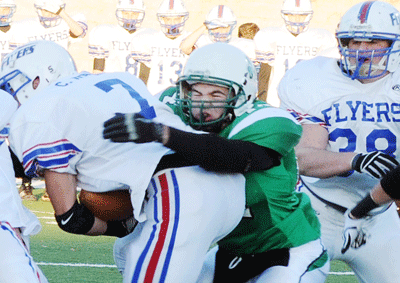 Top-ranked Falls City Sacred Heart, now 10-0 and into the Class D2 quarterfinals for the second-straight year, hosts Humphrey St. Francis (9-1) this afternoon at 4:30 p.m. at Jug Brown Stadium. St. Francis defeated Sacred Heart 38-13 at Jug Brown last year in the semifinals and then went on to a runner-up finish, losing to Giltner in the D2 championship, 42-26.
"They expect to win a state championship every year," said FCSH head coach Doug Goltz about their quarterfinals opponent. Goltz noted St. Francis' playoff history that includes three state championships, four runner-up finishes and 19-straight playoff appearances.
FCSH is 3-2 all-time against the Flyers with the bulk of the series being played in an eight-year stretch between 1989 and 1996 where the schools squared off five times. FCSH's last win over HSF came in 1993 when the Irish thumped the Flyers 58-13 in the semifinals, en route to their fifth-straight state title.
Regardless of this afternoon's outcome, Dunn's 2013 campaign will go down as one of the top two passing seasons in Irish history. Dunn's 25 TD passes is the most in a season– he broke Brian Lemerond's total of 21 set in 1998 with a five TD performance against Kenesaw – and Dunn's 1,237 passing yards is second all-time to Lemerond's 1998 total of 1,528. With potentially three games remaining for Dunn, he would need to average 97.33 passing yards per game to surpass Lemerond. Dunn has completed nearly 70 percent of his throws and his 112 pass attempts are the fifth most in a season by an Irish quarterback.
Dunn's two main targets are senior ends Colin Niemeyer and Sean Strasheim, who have 32 and 18 receptions, respectively, this season. Niemeyer has 522 receiving yards and nine TD catches, while Strasheim has tallied eight TD's and 261 yards.
Defensively, seniors Jarod Fiegener and Brandon Schawang lead the Irish. Fiegener anchors the defensive line and leads the team in tackles (124), sacks (16) and tackles-for-loss (33). Schawang is a close second to Fiegener in tackles with 122, including a team-high 41 solo stops and is second on the team with 21 tackles for loss. Schawang and junior linebacker Zavan Kirkendall have each scored two defensive touchdowns. Also look for senior Daniel Keithley and junior Logan Scheitel to harass the Flyers' ball carriers. The two have combined for 14 sacks and 30 tackles-for-loss.
HSF rushed for 240 yards and five touchdowns in last year's win over the Irish, but the Flyers graduated all three offensive linemen, both tight ends, a running back and their starting quarterback. HSF's offensive line from a season ago averaged 230-pounds, while this year's starters weigh-in at a noticeably "lighter" 195-pounds. 
HSF junior running back J.J. Oltmer, who rushed for 144 yards on 19 carries last year against the Irish and totaled more than 1,500 yards rushing as a sophomore, leads the Flyers with 1,717 yards rushing and 24 touchdowns on 250 carries. Senior quarterback Sam Zach is a distant second with 69 carries for 276 yards and 10 TD's. Zach has passed for 646 yards and 12 TD's with six interceptions on 42-of-82 attempts.
"They play power football," Goltz said. "They want to run the ball and possess the ball."
What you see is what you get from the Flyers, according to Goltz, adding that his team will need to play better than they did a season ago if they want to advance to the semifinals.
"They block well and run hard and do not get too tricky," Goltz said. "Last year we didn't block well and we couldn't stop their running game. We must play physical and match their physicality."