Tigers downed by Crusaders, 49-27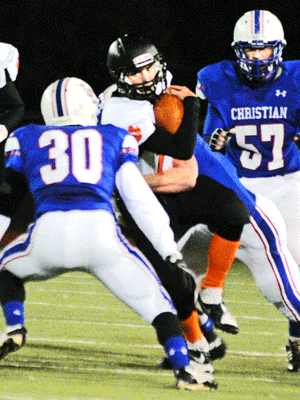 Falls City High's Mitchell Harling faced plenty of opposition last Thursday at Lincoln High's Beechner Athletic Complex and many times found himself surrounded by would-be Lincoln Christian defenders, but the senior spin-back's ability to cut back and break tackles helped him finish with a game-high 159 yards on 27 carries. Harling will look to lead FC to their first state playoff victory in school history Thursday against visiting Wayne. Photo by Jim Langan.
Lincoln Christian's explosive, quick-strike offense came to life in a big way after a slow start last Thursday in a 49-28  victory over Falls City on a chilly night at Lincoln High's Beechner Athletic Complex.
FC, now 5-3, looked promising after one quarter, as the Tigers gained 98 yards of offense on 22 plays and led 6-0. FC chewed up more than five minutes of clock on the game's opening drive, marching 55 yards on 11 plays and scoring on a one-yard touchdown by junior Brenden Heckenlively. Jordy Stoller's 19-yard reception from senior spin-back Mitchell Harling to the LC one-yard line highlighted set up the score.
The Tigers held LC to a three-and-out on their first possession and their second drive showed promise as FC was again able to run the football and chew up clock in crossing into Crusader territory, but a holding penalty on third down and two killed a would-be first down run by the Tigers and FC was forced to punt.
"That was a huge call," FC head coach Darin Fritz said about the holding penalty. "It comes back to us not playing fundamentally sound on every play. Until that time we were keeping the ball out of their offense's hands and running the ball and clock on them, things went down hill after that."
FC finished with 12 penalties for 96 yards.
LC scored four plays later on a 37-yard TD pass from Logan Power to Leighton Chicoine to tie the game. This started a 34-6 run by the Crusaders, who put up 431 yards of offense in the second and third periods.
Power was 12-of-18 passing for 209 yards and four touchdowns. Three of those scores came on passes of 39, 44, and 13 yards to Chicoine, who finished with eight receptions for 137 yards, all in the first half. Power added an 11-yard touchdown run in the fourth quarter.
Fritz said his team continues to do certain things well, but has yet to put it all together for four quarters. Something they will have to do if they want to advance.
"Our first drive of the game was good after we broke it down. We had some mistakes and still ran right down the field and ate up a lot of clock in the process. Defensively we had a couple of missed tackles for a touch down, but overall played pretty well in the first half."
FC stayed close, however, and trailed by only 14 at the end of the third quarter, in large part to Harling, who rushed for 159 yards and one touchdown on 27 carries. Harling's 30-yard TD run showcased his open-field talents and cut the lead to 34-20 with 3:20 left in the third quarter.
"Mitchell has done a great job of running between the tackles and finding seams and cut-back gaps this season," Fritz said. "He is really getting better at the play-action passing game and that is something we have needed this season."
Harling passed the ball seven times, completing five for 94 yards. Junior Jack Hartman hauled in two passes for 42 yards.
Heckenlively carried it six times for 25 yards and two touchdowns, while Stoller, who entered the game as FC's leading rusher with 852 yards, was held to 43 yards.
Despite the loss, the Tigers will host a first-round state playoff game for the second straight year, as Wayne (5-4) comes to town Thursday for a 1:30 p.m. kickoff. Interestingly, FC's three losses were to the No's. 1, 2 and 3 seeds in the East bracket – Syracuse (8-0), Christian (7-1) and Ashland-Greenwood (7-1) – and FC held a lead against all three opponents.
FC is the No. 7 seed in the East bracket, while the Blue Devils are the No. 10 seed.
"They are a really well-balanced team offensively," said Fritz about Wayne. "They have a very mobile quarterback with a good arm and a lot of team speed. Defensively they flow to the ball really well."
Wayne is led by seniors Jalen Berry (No. 12, QB-DB), Payton Janke (No. 22, RB-DB), Jared Anderson (No. 18, WR-LB), Demetrius Alexander (No. 24, RB-LB). Trevor Pecena (No. 31, DB) and Brandon Martin (No. 67, OL-DL).  
Fritz is hoping the Tigers can put together four quarters to capture the school's first state football playoff victory.
"We need a complete game to beat the caliber of teams we are now facing. It goes back to having potential and doing the things we need to do to realize our potential."