Pair of Tigers qualify for state cross country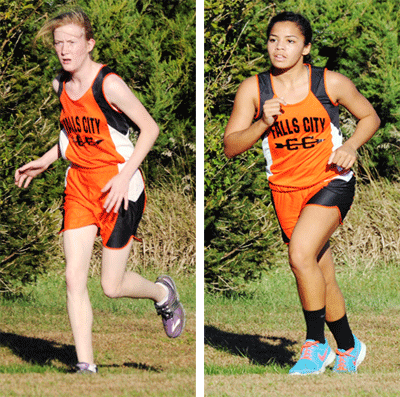 Falls City High cross country teammates, sophomore Lainey Larsen (left) and junior Krystal Samqua, will participate in the State Cross Country Meet Friday in Kearney. Photos by Jim Langan.
Falls City High runners Lainey Larsen and Krystal Samqua ran their way into the field of this Friday's State Cross Country Meet in Kearney by finishing in the top 15 at districts last Thursday. Having the Tiger tandem competing together on the state's biggest stage will be twice as nice for Tiger CC head coach Cody Hawley, who, for the first time in his 15 years with the program, will coach a pair of runners in the state meet.
"The girls' team ran one of their better races of the season," Hawley said. "Our goal this year was to get a girls' team to state and they were very close to accomplishing that goal. "
Hawley pointed to the fact that it was the first time all year that his one through four runners finished with a time-gap of less than 60 seconds as the reason for the Tiger girls' successful day.
Officially, Larsen and Samqua finished 12th and 15th, respectively, at the Class C-1 District Meet, which was held in Fairbury. Larsen, a sophomore who has quickly evolved into the figurative "pace car" of the Tiger girls' CC team, finished with a time of 22:57 and more importantly, set a tempo for the rest of her teammates that nearly resulted in the first Falls City High girls' team to qualify in 30 years. Samqua finished just 10 seconds behind Larsen and the Tiger junior claimed the final qualifying position, as the top 15 from each of the four districts earn a spot at state.
Larsen and Samqua are the fifth and sixth girls to qualify for the state meet under Hawley and the first since Alicia Huettner in 2010. Jessica Kelz qualified in 2007, Alissa Gyrha finished in the top-10 three-straight years from 2002 to 2004 and Katie Parsons reached the state meet in 1999. Brett Boltz in 2004 and Timothy von Behren in 2008, also qualified during Hawley's tutelage.   
The remaining Lady Tiger runners – sophomore Lauren Bierman (33rd, 24:56) and freshmen Cheyenne Dovel (22nd, 23:56) and Morgan Roberts (23rd, 23:56) – kicked hard as well and helped the team take home sixth place with 69 points, finishing only nine points behind the third-place state qualifying team of Hastings Adams Central. Lincoln Christian and Auburn were squeezed between FC and Adams Central in fourth and fifth place with 63 and 66 points.
"I knew this district was going to be a competitive battle, but I didn't expect the scores to be so close together," said Hawley of the bottleneck of teams vying for that third and final ticket to state. The nine points separating Adams Central and FC was by far the fewest of the four districts. At the C-2 meet, 44 points separated Wahoo and sixth place Boys Town. In C-3, the margin was 74 points and in C-4, 24 points stood between Gothenburg and Kearney Catholic.
The Kearney Country Club, located at 2800 19th Avenue, is once again the site of the State CC Meet. Larsen and Samqua will run in the first race of the day Friday with the Class C girls slated to begin at noon. The Tiger duo will be in starting box number 17 with four other runners, two from Fort Calhoun and the other two from Holdrege, which just so happens to be the school of last year's Class C state champion. Gabriella Garcia, now a senior at Holdrege was the only upperclassmen in Class C to win a district title last week. Lincoln Christian sophomore Collette Williams won the C-1 district. Platteview freshman Megan Gillen was the tops in C-2 and C-3's district champion was freshman Marta Pulfer of Wayne.
Admission Friday is $7 for adults, $5 for students and gates open at 10:30 a.m.