Baby steps to November for this young group of Huskers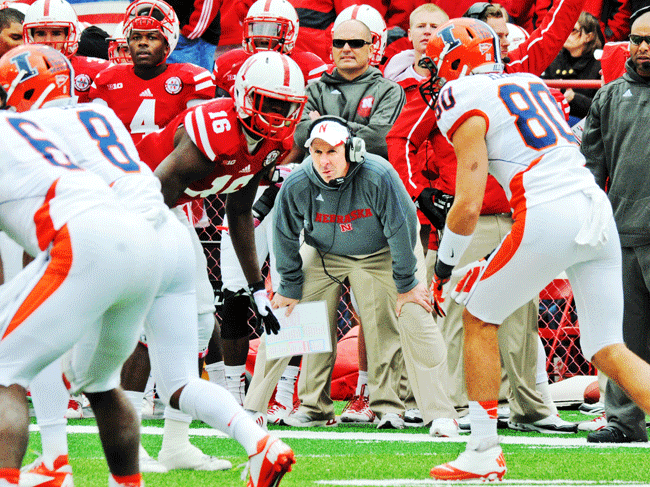 (TOP) Nebraska head coach Bo Pelini watches his defense during the third quarter of the Huskers 39-19 victory in the Big 10 Conference opener. (BELOW, RIGHT) The future of the Nebraska backfield looks bright and was on full display Saturday at another sold out Memorial Stadium, as junior I-back Ameer Abdullah takes the handoff from redshirt freshman quarterback Tommy Armstrong. Abdullah finished with a career-high 225 yards, while Armstrong, playing in place of the injured Taylor Martinez, passed for 135 yards and two touchdowns. Photos by Jim Langan.
In the classic comedy film, "What About Bob," Bill Murray's character, Bob Wiley, is a neurotic loner who struggles, to say the least, with just about any normal daily activity.
One of the most memorable takeaways from the movie is Wiley's use of the phrase, "baby steps." Wiley learned the method from Dr. Leo Marvin, played by Richard Dreyfus, and uses it to help himself overcome his fear of just about everything. He uses it while getting on an elevator, boarding a bus and for just about anything else that confronts him during his daily routine.
The "Baby Steps" method seems like a decent approach for the 2013 Nebraska Cornhuskers, especially as they creep closer to the November schedule.
Like Wiley, Pelini is a bit neurotic and many times drives those around him, i.e. Nebraska fans, mad.
However, through the use of baby steps Pelini and company made some huge strides Saturday, jumping on top of Illinois early and unlike the disaster that was UCLA, they baby stepped their way to victory.
Ameer Abdullah and Tommy Armstrong showed shades of the old backfields with Tommie and Damon and LP, and Ahman, as the duo ran the option to near-perfection.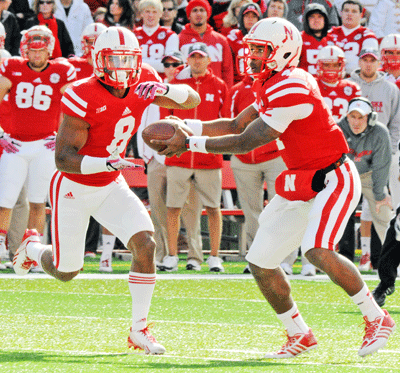 Sure, there weren't any triple option calls, but the few times the two tangoed on an option left or option right, they dazzled. Abduallah's career-high day of 225 yards seemed, at first glance, like an easy day at the park. But go back and watch the tape again. He broke tackles, twisted and turned out of defenders arms and ran with a sense of purpose like few backs have in the last, oh, 10-or-so years and on a day when the offense needed him the most.
Armstrong was efficient and didn't turn the ball over. Baby steps to 1-0 in the Big 10. That's all we could have hoped for and the kid performed.
Yeah, it was against a defense ranked with a number more fitting for a high temperature in Arizona, but Illinois had many Husker fans fearing more than the wind and cold Saturday. This writer included.
And the Blackshirts. What else can be said about the defense's performance in September that hasn't already been said about the Jacksonville Jaguars?
Pelini and his defense have heard it all and the first four games of the season did little to quell the barrage of Monday morning quarterbacks.
But on Saturday, that group, highlighted by new names like Rose, Santos, Valentine, Moss, Curry and Gregory, played fast and made plays. Pelini's blitzes worked and the front four pressured Illinois quarterback Nathan Scheelhaase seemingly all day. Baby steps for the Blackshirts.
Sure, Illinois racked up 372 yards of offense, but when a play needed to be made, someone in in the Scarlet and Cream stepped up. Were mistakes made? Absolutely. But this young team took more than a few baby steps in the right direction Saturday.