Pretty in Pink Fun Run/Walk raises nearly $1,000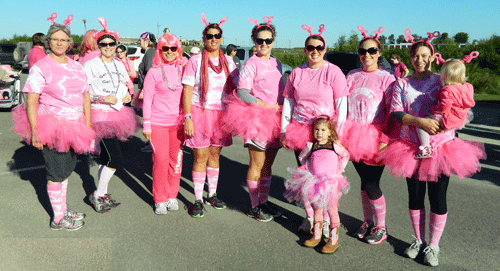 Winners from Saturday's Pretty in Pink Fun Run/Walk, pictured above from left to right, are Nancy McKim, Kati Buckminster, Linda Santo, Tanna Chandler, Amanda Clary, Kim and Bella Johansen, Shelly Huppert, and Rachel and Alaina Jackson. The event, which benefitted the Richardson County Cancer Fund, raised close to $1,000. Photo submitted.
 More than 60 participants of all ages took place in the second-ever Pretty in Pink Fun Run/Walk, held Saturday morning in Falls City. The entrants, dressed in the color that is now ever-familiar with Breast Cancer Awareness, enjoyed a beautiful, sun-drenched day as they walked and ran to raise awareness for the disease. The participants started and ended their walk/run at the Falls City Aquatic Center, with stops along the way including Stanton's Lake and the new City Building and Falls City Police Department, which is the site of the old hospital. 
The event, which raised close to $1,000, benefitted the Richardson County Cancer Fund
Winners during the Pretty in Pink benefit were Linda Santo, "Most Pink," Kati Buckminster, "Most Outrageous," and the Therapy Department from the Community Medical Center, who, collectively, took home the title of "Best Dressed." Judges of the contest were Pam Joy, Pam Smith and Sandy Catlin.
The event was created by Nancy McKim and Tanna Chandler in 2012, as a way to raise money and awareness, after Tanna survived the disease herself.   
According to the American Cancer Society, breast cancer is the second leading cause of cancer death in women, exceeded only by lung cancer. However, death rates from breast cancer have been declining since about 1989, with larger decreases in women younger than 50. These decreases are believed to be the result of earlier detection through screening and increased awareness, as well as improved treatment and at this time there are more than 2.8 million breast cancer survivors in the United States.
October 1 marks the start of the National Breast Cancer Awareness Month (NBCAM). NBCAM is a collaboration of national public service organizations, professional medical associations, and government agencies working together to promote breast cancer awareness, share information on the disease, and provide greater access to services.
Since its inception more than 25 years ago, NBCAM has been at the forefront of promoting awareness of breast cancer issues and has evolved along with the national dialogue on breast cancer.