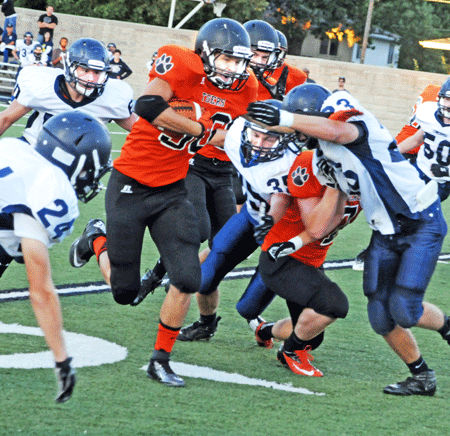 Two of Falls City High's biggest offensive threats, senior Ryan Mount (above) and Mitchell Harling (below, right), ran wild in the first half Friday night at Jug Brown Stadium during the Tigers 52-14 dismantling of Omaha Concordia. Mount, seen above as he powers through traffic in the first quarter, carried the ball five times for 69 yards and two TD's. Harling, seen above on an option carry, led FC with 11 carries for 81 yards and a TD.
 The sideline opposite of Falls City High's Friday night at Jug Brown Stadium was littered with former Husker greats, Steve Warren, Jamaal Lord and Josh Bullocks, to name a few. However, the Big Red legends weren't playing and that proved unfortunate for the Omaha Concordia team they were coaching, as the Tigers manhandled the Mustangs 52-14 to improve to 2-1 on the season.
Warren, who serves as the Mustangs head coach, a position he undertook in May, was a First Team All-Big 12 selection and Second Team All-American  in 1999. He soon added former Huskers Jammal Lord (2000-03), Josh Bullocks (2002-04, 40th overall selection in 2004 NFL Draft), DeAntae Grixby (2000-03) and Tony Veland (1992-95) to his staff and all were patrolling the east sideline of Jug Brown Friday night.
The local celebrities didn't phase the Tigers, though, as  FC went about their business to the tune of 421 yards of offense, in addition to their best defensive performance of the season, holding Concordia to 97 yards on 32 plays. The Tigers intercepted OC's quarterback Tanner Torosian four times – three came from junior cornerback Jack Hartman – and capitalized on three of those picks with touchdowns.
The Tigers started the scoring when junior Jordy Stoller scored from 38 yards out to put FC in front 8-0 (Brenden Heckenlively with 2-point conversion) with 10:19 left in the first quarter. It was the third rushing score of the season for Stoller, who, through three games, has carried the ball 21 times for 350 yards, resulting in a ridiculous 16.67 yards per carry average.
Following the first of the four INT's, the Tigers struck again when senior Ryan Mount carried for a 19-yard touchdown. FC added their third first quarter touchdown with 1:03 on the clock when senior Mitchell Harling plunged in from six yards out.

Junior Brenden Heckenlivlely put FC ahead 28-0 midway through the second quarter on a one-yard run, which was quickly answered by the Mustangs only first half touchdown, a 41-yard kickoff return by Bryan Moore.
FC struck fast again, this time through the air, as Harling connected with Hartman on a 17-yard touchdown pass, which capped off a four play, 46-yard drive and chewed up just over two minutes of game clock. The 122 seconds of clock the Tigers used to answer the Mustangs first score was the most of any of their seven scoring drives. Harling led FC with 11 carries for 81 yards.
Mount finished the Tigers first half scoring explosion when he found Stoller for a 24-yard score to put FC ahead 44-7 with 1:32 left to play in the half. Mount added another rushing touchdown in the third quarter and ended the night with a career game, finishing with five carries for 69 yards and two touchdowns to go along with this 24-yard TD pass to Hartman.
The Tigers junior varsity played most of the second half, as FC pulled their starters in exchange for reps for the young players.
FC travels to Lincoln Friday night for a game with Lincoln Lutheran. The Warriors fell to 1-2 on the season Friday night in a 42-26 defeat at Raymond Central. Lutheran lost their season opener on the road to Omaha Concordia, 42-20.
Game time Friday is set for 7 p.m. and will be played Nebraska Wesleyan's Abel Field, located at 56th and Huntington Streets.
Team Stats
                           OC          FC
First downs            9           24    
Rushing              15-44     46-395
Rushing lost         39           15
Rushing net          5           380
Passing              9-17-4     2-6-0
Passing yds.         92           41
Fumbles lost         0             0
Punts-ave.          5-36.2     3-34/7
Punt Returns        1-18       4-88
Kickoffs-ave.         3-45      8-46.1
Kickoff Returns    7-163        3-85
Total return yds.    181        173
Penalties-yds.       4-20       8-75
Total offense          97         421
——
INDIVIDUAL STATS
Rushing
    FC — Harling, 11-81, TD; Mount, 5-69, TD; Stoller, 3-56, TD; B. Heckenlively, 5-56, TD; DiGiacomo, 5-36; Bra. Rose, 3-16; Valentine, 1-13; Winters, 1-11; Robinson, 3-11; Pentecost, 2-10; Bry. Rose, 2-8; Waggoner, 2-6; Hartman, 1-4; Reiss, 2-3.  
Passing
    FC — Mount, 1-2-0, 24 yds., TD; Harling, 1-3-0, 17 yds., TD; Robinson, 0-1-0.
Receiving
    FC — Stoller, 1-24, TD; Hartman, 1-17, TD.
Punting
    FC — Mount, 2-73; Kirkendall, 1-31.
Kickoff Returns
    FC — Hartman, 2-66; Waggoner, 1-19.
Kickoffs
    FC — Thompson, 8-369.
Interceptions-Ret. yds.
    FC — Hartman, 3-27; Stoller, 1-4.
Tackles
(unassisted-assisted)
    FC — Mount, 4-0; B. Heckenlively, 1-3; Adams, 2-0; Hartman, 2-0; Kirkendall, 2-0; Huettner, 1-1; McCann, 1-1; Robinson, 1-1; Thompson, 1-1; Fritz, 1-0; Harling, 1-0; Bra. Rose, 1-0; Stoller, 1-0; Weinmann, 1-0; Cooper, 0-1; Valentine, 0-1; Zimmerman, 0-1.
Sacks-Yards Lost
    FC — B. Heckenlively, 1-10; Adams, 1-5; Kirkendall, 1-5; Huettner, 1-17; Fritz, 1-9.  
Tackles For Loss-Yards Lost
    FC — B. Heckenlively, 1-10; Adams, 1-5; Kirkendall, 1-5; Huettner, 1-17; Fritz, 1-9.