FC drops three at home, now take show on the road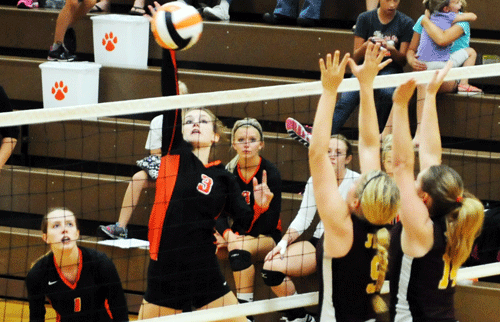 Falls City High junior Lindsey Duerfeldt attempts a kill, while senior Madison Olberding (No. 1) positions herself for the dig during the Lady Tigers home loss to Class D2 No. 6 Sterling. Duerfeldt finished with one kill on eight attempts and Olberding led FC with eight digs. Photo by Jim Langan.
The Lady Tigers were home for all three of their games last week, but tough opponents made for an uphill battle and Falls City dropped all three contests to fall to 1-4 on the season.
Thursday FC hosted Pawnee City and Class D2 No. 6 Sterling in a triangular and fell to PC in three games, 25-21, 19-25, 21-25. Sterling then defeated FC in two games 25-17, 25-17. FC hung with the Lady Jets early and were tied twice in the first game (14-14, 15-15) before Sterling pulled away.
FC senior Madison Olberding and junior Lindsey Duerfeldt led FC at the net Thursday with 11 kills each. Olberding also picked up 25 digs in the two games. Freshman Alyssa Frederick served 14 points with two aces against Pawnee City and junior Bailey Vrtiska paced FC with 22 assists. Sophomore Libby Bauman had a solid game defensively against PC with four solo blocks.
Last Tuesday, Elmwood-Murdock defeated FC 25-15, 25-14, 25-18. Olberding led FC with five kills and 12 digs; Vrtiska served eight points with one ace and handed out 11 assists; Duerfeldt and junior Chelsae Campbell each recorded 10 digs.
FC now turns their eyes to the road where their next eight scheduled dates will be played away from their home court – FC does not play at home again until Oct. 8. The Lady Tigers travel to Savannah, MO tonight, to Auburn Thursday and then to the Fairbury Invitational Saturday.