One for the Birds: Breaks favor Jays in Falls City's opener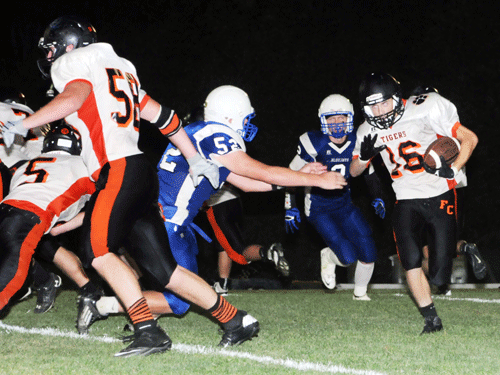 Tiger wingback Jordy Stoller readies to run around the outstretched arms of Ashland-Greenwood's Brett Kitrell, while Tucker Merz (58) and Jack Hartman (5) help clear a path during the 4th quarter of the FC's 23-14 loss. Stoller was FC's lone bright spot on offense totaling 110 yards on just 8 carries. Stoller had three runs of more than 20 yards, including the game's first score – a 43-yard scamper that put FC ahead 6-0. Photo by Jim Langan.
Tigers. Blue Jays. Zebras. In the animal world, one eats both. Another is simply prey and the third uses flight to keep out of trouble.
On an unseasonably hot Friday night in Ashland, Falls City's Tigers found a couple of those rules to be way out of whack. The crew in stripes repeatedly handcuffed the Tigers and the home team Blue Jays used levitation to connect on two big plays from quarterback Gunnar Garner to wide receiver Tyler Craven to out dual the orange and black 23-14.
With the temperature near 90 at kickoff, FC players, coaches and fans saw the breaks continually fall in favor of the home team. A jump ball fade route from Garner to Craven that resulted in A-G's first points was ruled a catch by the side judge working the Tiger sideline, despite many eyes seeing the 6-foot-1 senior's feet touch the chalk prior to hauling in the pass over FC junior cornerback Jordy Stoller.
Then, leading 17-14 midway through the fourth quarter, the QB-WR duo connected again when Garner heaved a fade route towards the FC sideline. FC's Jack Hartman, a 6-foot-2 junior corner, turned to make a play on the ball and appeared to have his position altered by the pesky Craven who made the grab and raced down field to set up the game's final touchdown. The same sideline referee who rewarded Craven with a touchdown earlier was again on the play, but this time no call was made.
Other examples were found throughout the game – Brenden Heckenlively's strip of the football while A-G was inside the FC 10-yard line and a blatant forward pass from senior spin back Mitchell Harling that was recovered in bounds by the Blue Jays and ruled a lateral.
To the Blue Jays credit, however, they controlled field position in the second quarter, which helped them outscore FC 17-0.
"It was tough," FC head coach Darin Fritz said of the uphill battle his team faced. "We kept fighting after some adversity and I was really proud of the guys for hanging in there."
That they did.
The Tigers, who put the first points on the board late in the first quarter on a 43-yard touchdown run from Stoller, marched the ball 93 yards for a touchdown on their second drive of the third quarter. The drive, a prototype of smash mouth football, was capped off by blocking back Heckenlively's 41-yard burst up the middle for the score. Stoller fueled the scoring drive with runs of 19 and 24 yards, unofficially.
"After a few big plays, we like to sneak a play in with our blocking back and it worked," Fritz said. "The opposing linebackers are usually keying outside and Heckenlively did a nice job."  
Then, after A-G's final score appeared to put the finishing touches on FC, senior Ryan Mount returned the kickoff for an apparent touchdown. Mount darted down the Blue Jay's sideline and broke through a pile of tacklers and blockers to paydirt en route to a kick return that, without video boards in the stadium to show the replay of it's brilliance, seemed to never happen. And unfortunately, the flag-happy stripes made sure it didn't and whistled FC for a block in the back. The flag may have been a white one, as the Tigers marched back to the A-G 30-yard line deflated, defeated.   
Stoller, who made a name for himself as a big play threat last season, led the Tiger offensive attack. He averaged nearly 14 yards per carry in the loss, as he finished with 8 carries for 110 yards and a touchdown.
FC, a physical team in Fritz's first season, picked up where they left off in 2012. Senior defensive end Reese Hogue, who stands 6 feet 5 inches and carries his 220 pounds well, dominated a Blue Jay offensive line that returned all five starters. Hogue finished with 3-and-a-half tackles for loss and two forced fumbles. Unfortunately though, on a night when zebras metaphorically got one back on their jungle counterparts, Hogue suffered an injury to his leg on a pass route he ran from his tight end position. Hogue was carried off the field and reportedly could miss 3-5 weeks with a deep contusion to the femur in his left leg. Hogue was given an MRI Friday after the game and initially it was thought he might have suffered damage to the ligaments, notably the meniscus. Fortunately, no damage to the knee was found and he should return for a stretch run.     
The focus of the Blue Jay defense seemed to be dialed in on Harling, who ran tough but wasn't able to spring loose. He finished with 14 carries for 34 yards and passed just six times, completing one for six yards.
Asked about the lack of throws, Fritz said the number of attempts could have been a little higher, but circumstances prevented any real shots down the field.
"We thought we could throw it a little more, but the wind and field position kind of worked against us," Fritz said. "Some of our counter runs, like the ones Jordy got loose on, can double as pass plays. We had decent success with those, but there were a few times the four and five-yard gains could have been bigger if we make a few more blocks."  
FC finished with more than 200 yards rushing and averaged 5.7 yards per carry, but at times struggled to find consistency. Consistency Fritz knows will improve as the new faces practice and compete.
"We made some mistakes, but they are definitely fixable," Fritz said. "We have the makings of a good, good football team, so we'll keep improving every day."  
FC (0-1) turns their attention to Raymond Central who visits Jug Brown Stadium Friday at 7 p.m.
The Trojans are led by senior Ben Lodema, a 6-foot-3, 200 pound quarterback who completed 21-of-31 attempts for 351 yards and two touchdowns in RC's 33-14 season-opening win over Douglas County West last Friday.  
"He's the real deal," Fritz said of Lodema. "We'll have our work cut out for us. We need to be physical with them right away, play fundamentally sound and make plays."
Team Stats               FC         A-G
Rushing Att-Yds       36-205    47-246
Passing                   2-7-0      8-10-0
Passing yds.              16         133
Fumbles lost              1             2
Total offense             221        379
Individual Stats
Rushing
     FC — Heckenlively 5-44, TD; Harling 14-34; Stoller 8-110, TD; Mount 5-8; Witt 1-6; DiGiacomo 3-3.
Passing
     FC — Harling 1-6-0, 6 yds.; Mount 1-1-0, 10 yds.
Receiving
    FC — Hartman 1-6; Harling 1-10.
Tackles
(solo-assisted)
    FC — Hartman 4-0; Heckenlively 4-5; Harling 2-4; Stoller 3-3; Witt 0-6; DiGiacomo 2-3; Jordening 1-0; Hogue 3-3; Merz 3-0; McCann 0-2; Weinmann 1-1; Adams 2-2; Thompson 3-5; Arnold 1-3; Huettner 5-1.
Tackles for loss
    FC — Hogue 3.5; Thompson 0.5.