CGB Grand Opening: Grain, trains to start moving Sept. 16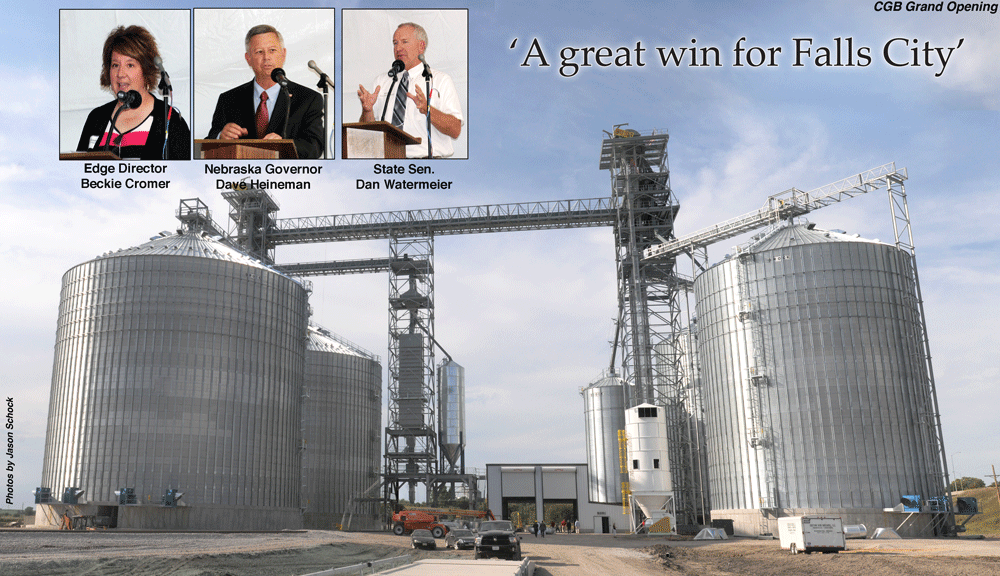 Emotion briefly interupted Consolidated Grain and Barge General Manager and emcee Eric Kresin Thursday during the Falls City facility's grand opening celebration.
Just prior to welcoming Beckie Cromer to the podium, Kresin extended a personal "thank you" to the EDGE Director.
"Thank you for all the insight you gave me and CBG. It's been an experience and I just want to say thank you," he said, his voice beginning to trail off. "Whew," he quickly injected, saving strong southern-tinged diction from devolving to whisper.
That's because heavy machinery alone didn't transform an empty field located just south of Falls City into a $23 million skyline-altering grain storage and shipping complex. It also took strength of the intenstinal variety, as a small, yet vocal, opposition to CGB's expansion mounted a spirited campaign condeming EDGE's involvement in recruiting the company. A fight that started in the court of public opinion and spilled into court.
"This project was a huge undertaking and I really enjoyed the adventure – most of the time," Cromer said, eliciting what can best be described as restrained laughter from the crowd of perhaps 500.
"Most of the time," she repeated.
And while District Court Judge Daniel Bryan sided with David Leon Frederick, part-owner of Salem Grain, in Frederick's claim that EDGE records were, in fact, subject to public disclosure under Nebraska's Public Records Act, the litigation in no noticable way hindered the growth of a massive facility that now doubles as a shiny welcome mat to all who travel north along Highway 73 into Falls City.
Plant manager Seth Post, who six weeks ago moved from the Wichita, KS, area to Falls City with his wife and young daughter, said the facility will be fully operational Sept. 16 — "ahead of the curve" on this fall's harvest season. Post said CGB plans to offer "extremely aggressive pricing" and last Friday were 20 under the board on corn and 45 under on beans. Volume allows this and the CGB Falls City plant, its 70th or so in corn and soybean country but first in Nebraska, is in a word massive. It can hold 2.3 million bushels at a time and has the capacity to move 30 million bushels a year. A 110-car train, holding 440,000 bushels, is expected to pull out of the CGB station every five days, destined for feedlots in Texas. Post said as much as seven million bushels could leave Falls City this harvest season alone.
"Because of the amount of grain we can load, we have good pricing opportunities." Producers, he said, who previously drove to elevators in St. Joseph, MO, or Atchison, KS, will save time and money unloading closer to home.
Post, a Kansas State University grad, said 10 full-time employees are currently working at the Falls City site, but that number "will definitely inflate."
"We'd rather go in a little understaffed and then add people, as opposed to starting higher and possibly having to lay people off during the winter," he said. Post he expects to keep 13-15 full-time workers employed.
"This project was a great win for Falls City," Cromer said Thursday. "It created new jobs and infused susbstantial money into our local economy by providing millions of dollars in contracts to more than 20 local businesses. Airlanco, for instance, has stated that this high-tech facility filled with their compenents will be a catalyst for future growth in their company and that's a good thing for Falls City.
"It's also energized this community and the support we received is very much appreciated," she said. "The community really rallied together to make this happen and its gratifying to know that Falls City successfully competed for this investment with communities across the region and the impact of this project will have a long-term effect on our community for generations to come."
CGB, which is headquartered in Louisiana, held its grand opening a mere five days after the offical unveiling of the new Rulo Bridge and dignitaries, including Gov. Dave Heineman and Sen. Dan Watermeier, lauded the $20 million-plus projects.
"Falls City, from what I see, is so unique in that they take it upon themselves to get the work done," Watermeier said. "What community is going to have a new bridge and new great facility like this done and dedicated within a week of each other? Every time I come down to Falls City, I'm just in complete awe of what goes on here."
Gov. Heineman, who was born in Falls City and has many family members here, said Falls City and Nebraska are set to thrive economically.
"This about this – in the next 25-30 years, we'll have two billion more people to feed in the world, probably on less farmland than we've ever had. About 90 percent of that will be exported to Africa and Asia. That's why these facilities are so important to the future of agriculture.
"It's communities reinvesting in themselves like you're doing today that makes me especially proud to say I'm Governor of the best state in the United States of America," Heineman said.
Watermeier thanked CGB for coming to SE Nebraska.
"We're glad they chose SE Nebraska fo another facility. The availability of rail transport for the grain was one of the draws to Falls City. That, along with many months of hard work by local leaders, tireless efforts, time spent by EDGE, as well as Falls City and Richardson County officials and many others who helped get this project to the finish line. Because of this project, business has benefited from the construction phase and businesses will continue to benefit from continued truck traffic, increased utility usage and so on. Furthermore, the city, county, school district and other political subdivisions will experience an increased property tax base," Watermeier said.
"As a state senator, the biggest issue I receive the most complaints on is high property taxes. Anything we can do to reduce this burden is a positive step. Economic development is vital to the efforts of a rural community to survive and thrive. Jobs offering good salaries and benefits not only help retain our young adults in rural areas, but also attract new people," Watermeier said. "A growing community supports better schools, stronger downtown businesses and more services for its residents.
"Falls City creates an excellent example of economic development done right," Watermeier said. "The positive aspects of this CGB facility will reproduce in numerous ways benefits not only for the residents of Falls City and Richardson County, but also other areas of SE Nebraska."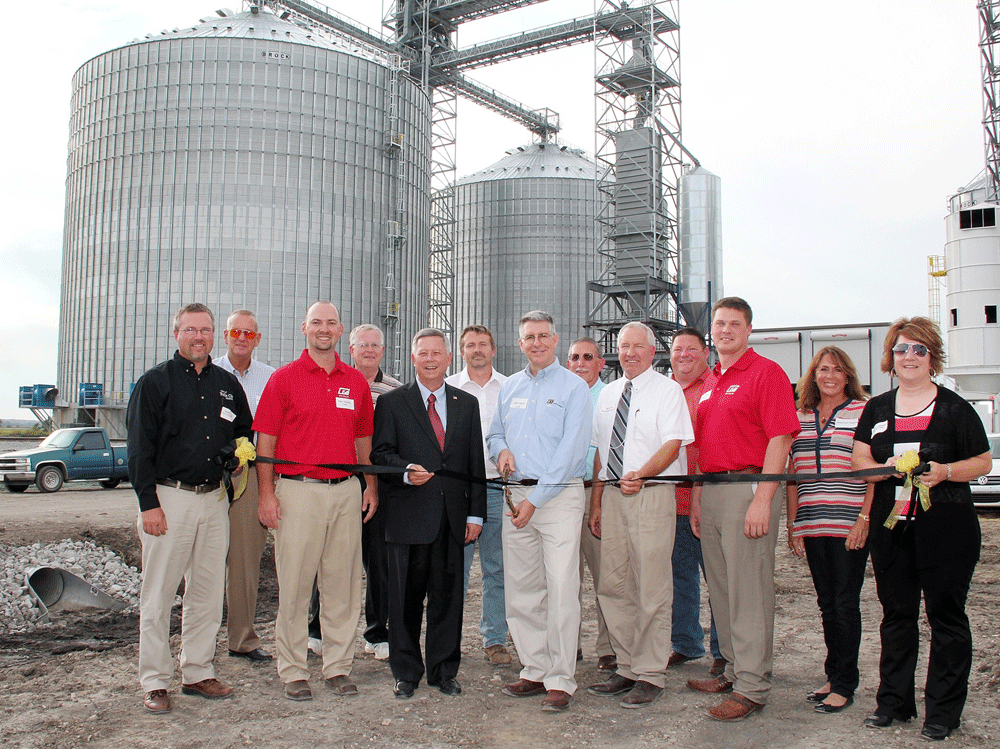 CGB Ribbon Cutting, held Thursday, front row, from left: City Clerk Gary Jorn, CBG Regional General Manager Eric Kresin, Governor Dave Heineman, CGB Vice President of Grain Operations Greg Beck, Senator Dan Watermeier, CGB Facility Manager Seth Post, EDGE Executive Director Beckie Cromer; back row, from left: Chuck Bebermeyer, Charlie Radatz, Falls City Mayor Tim Hersh, Jerry Oliver, Bart Keller and Dorothy Towle.