Lady Tigers off to 3-1 start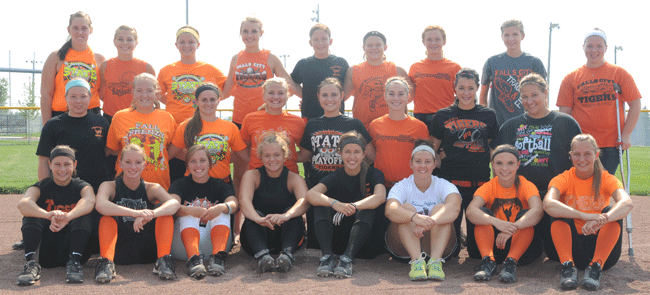 2013 Falls City High Softball (front row, left to right) – Mahlory Vice, Allyson Scholl, Kirstyn Buchholz, Payshince Dawkins, Brooke Scheitel, Emily Weaver, Brittany Ritter, Haley Cochran. Middle row – Jordan Phroper, Megan Eickhoff, Molly Brown, Tayten O'Brien, Emma Gerdes, Bailey Armbruster, Avery Scott, Marissa Ogden. Back row – Shiloah Feighner, Sydney Armbruster, Desiree Dawkins, Chessanie Blakley, Morgan Bletscher, Josie Lunsford, Bailey Gilkerson, Danielle Kirkendall, Morgan Phroper. Photo by Jim Langan
First-year head coach Jason Bredemeier and the 2013 Lady Tigers started the season off on the right foot with a 3-1 weekend, highlighted by their 15-5 season-opening road win over Nebraska City last Thursday.
The Lady Tigers combined for a whopping 17 hits compared to NC's four.
Buchholz and junior shortstop Sydney Armbruster each recorded three hits in four at-bats. Scheitel, Dawkins, junior Shiloah Feighner and  freshman Morgan Bletscher finished with two hits a piece.
Scheitel was responsible for four RBIs; Sydney Armbruster drove in three, while Buchholz and Dawkins had a pair each.
The Lady Tigers capitalized on their hot hitting at Saturday's Freeman Invitational where they went 2-1 with their only loss coming to Wahoo, who is the No. 1 ranked team in Class C by the Lincoln Journal Star.
FC cruised by Class A South Sioux City 8-0 in their tourney opener to set up their semifinal matchup with Wahoo.
Bletscher and Scheitel led the charge offensively finishing 2-for-4 with 2 RBIs each. Sydney Armbruster, Ritter, Feighner and Cochran each drove in one run.  
Buchholz pitched masterfully against Wahoo allowing only five hits and three earned through six innings.
FC out hitWahoo's three run fifth proved to be the difference. FC scored one in the top of the third and one in the sixth, but could not rally in the final two innings.
FC bounced back with a big win against district foe Wilber-Clatonia to claim third place. The Lady Tigers all nine runs in the top half of the third, then held off a comeback by W-C, who posted one in the third, two in the fourth and two in the fifth, before time was called with the final score at 9-7.
Sydney Armbruster and Buchholz finished with identical box scores against W-C. The two were a perfect 3-for-3 with two runs scored and two RBIs.
Bredemeier was more than pleased with his teams' efforts out of the gates, particularly their showing against perhaps the top team in their class.
"If a couple plays would have gone differently, we could have had a pretty good chance of beating them," Bredemeier said. "That game showed that we can play with any team in the state. Overall, we have had a really strong start to our season."
FC travels to Maryville, MO Thursday night, then plays their first home game of the season Friday night at Hartman Field in the new Fiedler Sports Complex against Wymore Southern. The junior varsity are scheduled to start at 5 p.m. with the varsity to follow.