State trooper Jerry Chab, 45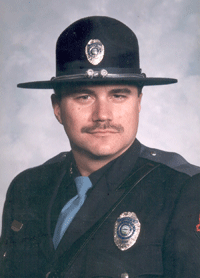 Nebraska State Patrol Trooper Jerry Chab, 45, died the morning of Tuesday, Aug. 6, in the garage of his rural Falls City home from apparent carbon monoxide poisoning, a source close to the case has told The Journal.
    The State Patrol issued a statement Wednesday stating only that foul play was not suspected and no further comment would be released concerning the death of the 23-year State Patrol veteran. At the time of his death, his rank was Trooper 2 and he worked in Highway Enforcement.
    Chab's father, Robert J. Chab, was also a Nebraska State Trooper and he was struck by a vehicle and killed on Jan. 4, 1984, while conducting a vehicle safety checkpoint on Hwy. 159 east of Falls City.
    Jerry Chab was raised in Falls City and graduated from FC High School in 1985 and the University of Nebraska at Lincoln in 1990 with a degree in criminal justice. He joined the State Patrol in 1991.
    He was born Oct. 1, 1967 at Falls City to Teresa M. (Stech) Chab and the late Robert J. Chab.On June 3, 1989 he married Ronda Schroeder at Falls City.The couple established their home in Lincoln when married and then moved to Pleasant Dale in 1993 and to Falls City in 2004.  
    He was a member of Sts. Peter and Paul Catholic Church at Falls City.
    Jerry is survived by his wife, Ronda of Falls City; sons, Robert and Ryan, both of Falls City; mother, Teresa Chab, of Falls City; brother, John (Terri), of Lincoln. He was preceded in death by his father and brothers, Frank and Joseph.
    A memorial service was held Saturday, Aug. 10, 2013 at St. Paul's Evangelical Lutheran Church (20th and Towle Sts.), with Rev. Andrew Chavanak, Msgr. Robert A. Roh and Fr. David Oldham officiating. Inurnment in Falls City Catholic Cemetery.
    The family received friends Friday at Dorr and Clark Funeral Home.