Blue Storm rally late, claim inaugural NEBKAN Seniors Border Battle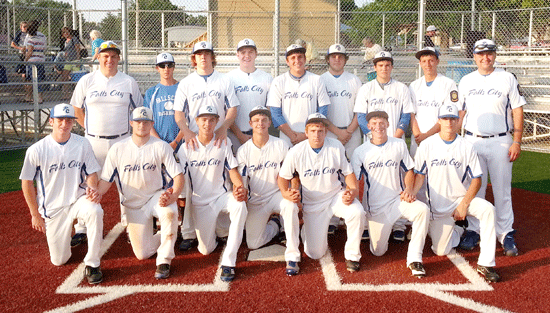 Falls City Blue Storm and Sabetha, KS both threatened with rallies Sunday evening at SNC Field, but it was the hosts, Falls City, that eventually took advantage in a 5-1 win in the NEBKAN Seniors Border Battle championship game.
This was the first NEBKAN Seniors title awarded, due to last year's being canceled because of rain. Falls City's Juniors won the NEBKAN title earlier in June and all told, Nebraska is 9-0 against Kansas in the three tournaments.
The win over Sabetha wrapped up a successful weekend for the Blue Storm, who improved to 14-9. FC was 3-0 in the tournament with wins Saturday over Tecumseh and Auburn during the pool play portion.
Sabetha advanced to the final with a 7-4 victory over Doniphan County, KS in the Kansas side of the pool. Holton, KS was to be the third team in the Kansas pool, but could not make the tournament.
FC's Chaz Dunn two-run double to left field in the top half of the fifth scored Reese Hogue and Tyler DiGiacomo to put the Blue Storm ahead of Sabetha 2-0. FC added three more runs in the seventh via a RBI double by DiGiacomo and benefited from a two-out error by Sabetha pitcher Brendan Garrett, who's wild throw to first allowed Lane Scheitel and Derek Bippes to score.  
DiGiacomo, Jordy Stoller and Austin Malone each had a hit for FC, who was out-hit eight to four, but Sabetha stranded eight runners.
Scheitel (3-4) earned the victory and snapped his three-game skid on the bump for FC. Lane allowed one earned run, eight hits and two walks while striking out three over seven innings of work.
FC right-hander Derek Bippes grinded it out and earned a tough victory in Saturday's 1-0 win over Auburn. Bippes, now 4-1 with a team-leading 2.41 ERA (minimum 20 innings pitched), allowed only one hit, but walked five and hit three Auburn batters.
Chase Thompson drove in the game's only run on a single to left in the bottom of the sixth.
FC then cruised past Tecumseh 15-3 to advance to Sunday's final. The Blue Storm posted two in the first, seven in the third and six in the fifth, as the game was stopped after five innings via the 10-run rule.
Lane and Logan Scheitel, who hit third and fourth against Tecumseh, combined for five hits, five RBIs and four runs scored. DiGiacomo scored three times, while Thompson, Wade Witt and Weston Witt all crossed home twice each. Weston, Thompson and Hogue drove in three, three and two, respectively.
Logan Scheitel (earned his second victory for the FC as he allowed three runs over five innings. He struck out nine, walked one and surrendered four hits.
The Blue Storm teams travel to Sabetha tonight, then Saturday the Seniors host Syracuse and Auburn.