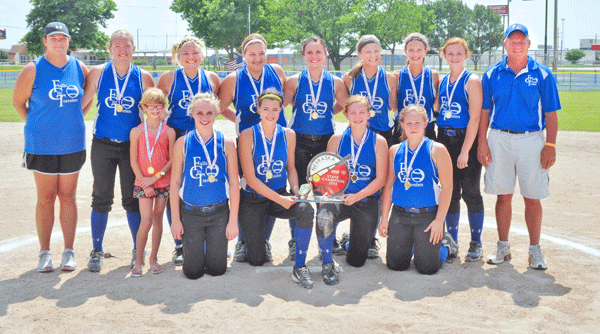 2013 Class D State Champs, Falls City Travelers 14-and-Under softball team, front row, from left to right: good luck charm Elyse Poppe, Chessanie Blakley, Avery Scott, Morgan Bletscher, Josie Lunsford; back frow, from left to right: Coach Julie Frederick, Megan Eickhoff, Tayten O'Brien, Marissa Ogden, Emma Gerdes, Alyssa Frederick, Meredith Poppe, Bailey Gilkerson, Coach Brian Poppe. Other team members not pictured, Molly Brown, Bailey Armbruster, and Coach Matt Bletscher. Photo courtesy of Brian Poppe.
The Falls City Travelers 14-and-Under softball team put the exclamation point on an undefeated weekend Saturday with an 11-0 victory over Auburn in the Class D State Championship in Grand Island.
Saturday's title game with Auburn was set up after FC's  extra-inning semifinal win against Ponca.
In what was by far their toughest game of the tournament, FC's Avery Scott provided the winning run when she crossed home plate after a passed ball in the ninth inning and secured the 6-5 victory Saturday morning.
Falls City then made easy work of Auburn, 11-0, to claim the Class D State Championship. The win improved FC's overall record to 23-13-1 and 3-1 against their district and league foe to the north.
All told, the FC 14s outscored their opponents at state 70-9 and averaged more than 10 runs per victory.
The FC 14s will play their final home game of the season tonight.
12-and-Under
Falls City's 12-and-Under team finished 2-2 at the Class D State tournament in Hastings over the weekend.     
Falls City dropped their opener Saturday morning, 12-9, to Albion. The 12s bounced back with a pair of victories, the first against the O'Neill Shamrocks, 12-6, and the second a 22-12 win over Bennington. Bruning-Davenport-Shickley ended the FC run with a 6-2 win Saturday afternoon.
The FC 12s will compete in the league tournament this Thursday and Friday in Nebraska City.