Seven locals to Southeast CC All-Star Weekend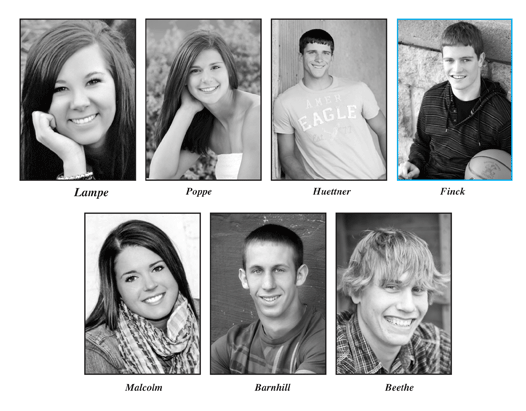 Six county athletes will participate in this weekend's Southeast Nebraska Volleyball and Basketball games to be held in the Truman Center on the campus of Southeast Community College in Beatrice.
Representing Falls City High will be Claire Poppe (basketball), Bethany Lampe (volleyball) and Cord Huettner (basketball). Janey Malcolm (volleyball), Clay Finck and Lane Barnhill (basketball) were Sacred Heart's selections and Kevin Beethe of Humboldt-TR-S was also selected to play in the basketball game. All the county athletes will play for the East squads in their respective sports.
The volleyball game is Friday at 7:30 p.m. and the basketball games will be Saturday night with the girls' at 6, followed by the boys' at 8.
Joining Poppe on the East team will be Jenna Nieveen (Sterling), Sierra Friedly (Pawnee City), Sydney LaVigne (Johnson-Brock), Kim Osovski (Lourdes Central Catholic), Alix Bryant, Bridget Bucher and Hannah Hoefler (all of Norris), Danielle Pfister (Johnson County Central), Kylie Trobee (Freeman), Erica Dorn (Wymore Southern) and Cierra Tjaden (Waverly).
John Cockerill of Sterling and Anthony Harms of Waverly will coach the East girls' team.
The rest of the East boys' team consists of Tyler Farley (Syracuse), Tyler Collin (Auburn), Nick Behrends (Johnson-Brock), Michael Lucas (Sterling), Dylan Bohlke (Norris), Graham Droge and Austin Smith (both of Pawnee City), Nathan Kuhl and Justin Damme (both of Johnson County Central).
The East volleyball team Alexis Nee and Tierra Williams of Auburn, Andrea Zarybnicky and Taylor Rupprecht of Diller-Odell, Amber Wehrbein of Lewiston, Morgan Lenners of Freeman, Syracuse's Kendall Hallstrom and Paige Zastera, Mackenzie Faris of Johnson County Central and Johnson-Brock's Claire Rush.
Coaching the East is Jennifer Koehler and Lewiston's Cara Debuhr.
Over 80 high schools were invited to make nominations for the all-star squads.