Blue Storm Juniors defend NEBKAN Border Battle title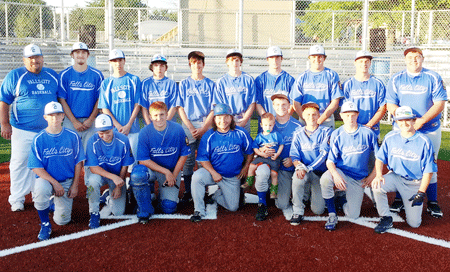 Falls City's Blue Storm Juniors (5-4) won their second-straight NEBKAN Juniors Border Battle Tournament over the weekend. This was the second annual tournament and second year Falls City has hosted. Nebraska teams went 3-0 on Sunday in their respective Nebraska/Kansas games for the second-straight year to help win the border battle. Tecumseh defeated Holton in the 5th place game and Auburn defeated Sabetha in the 3rd place game. The 2013 NEBKAN Champs, Falls City's Blue Storm Juniors, are pictured above beginning in the front row, from left to right: Bradley Rose, Bryan Rose, Weston Witt, Coach Nick Kraft, Sawyer Kean (with Kamdyn Huppert), Bailey Witt, Koner Hogue and Preston Deckinger; Back row, left to right: Coach Rich Witt, Zach Jordening, Coach Brooks Ivey, Colton Reiss, Jeremy Robinson, Trenton Pentecost, Austin Malone, Logan Scheitel, Tyler DiGiacomo and Dalton Witt.
Falls City's Blue Storm Juniors picked up three-straight victories over the weekend en route to their second-straight NEBKAN Border Battle.
The Juniors, now 5-4 on the season, defeated Doniphan County, KS, 11-7, Sunday to secure the second annual NEBKAN championship. Saturday FC defeated Tecumseh 9-4 and avenged a loss last Wednesday to Auburn with a 15-5 victory Saturday morning in the tournament's first game.
FC trailed 6-4 Sunday before they rallied for five runs in the bottom of the fifth and then added two more in the sixth to keep Doniphan County at bay. Zach Jordening's RBI single in the fifth scored Sawyer Kean, who had reached on a single, and proved to be the game-winner. Tyler DiGiacomo then singled to centerfield and drove in Preston Deckinger and Jordening, which put FC ahead 9-6.
Kean finished with three hits and three RBI's for FC.
Logan Scheitel improved to 3-1 as he earned the win in relief of Weston Witt. Scheitel pitched 3 2/3 innings and allowed one run.
Falls City 9
Tecumseh 4
Eight errors by Tecumseh led to seven of FC's nine runs during the Blue Storm Juniors 9-4 victory Saturday.
FC capitalized on the errors early with four first-inning runs, all of which came with two outs and followed up defensive mishaps by Tecumseh.
Zack Jordening racked up three RBIs on three hits for the FC with singles in the first, third and fifth innings. His two-run single in the third scored Austin Malone and Sawyer Kean and pushed the Blue Storm's lead to 6-0.
Trenton Pentecost picked up his first win of the season for FC. He allowed four runs over six innings and struck out four, walked six and gave up eight hits.
Falls City 15
Auburn 5
Trailing 5-3 in the bottom of the fourth inning, FC's Blue Storm Juniors scored seven runs in the fifth after posting five in the fifth en route to a 10-run rule victory over Auburn.
Logan Scheitel singled in the fourth off of Auburn's Nate Moran and scored Bailey Witt and Koner Hogue to put FC up for good.
Weston Witt started it off for FC in the seven-run fifth with a two-run double that scored Colton Reiss and Bailey Witt. The rest of the inning's scoring came via a two-run single by Scheitel, a RBI single by Tyler DiGiacomo, a RBI single by Trenton Pentecost and a RBI single by Bailey Witt.
Scheitel led FC with five RBI's on three hits.
DiGiacomo evened up his record to 1-1 as he recorded the win for FC. He struck out two, walked three and allowed five earned runs on five hits in five innings pitched.