Drenched in sunshine and warm, breezy conditions, 21 area athletes competed in the Nebraska School Activities Association State Track and Field Championships, held Friday Saturday in Omaha at Burke High School.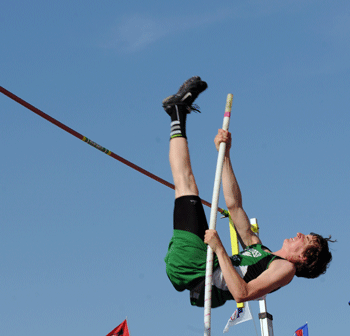 FCSH senior Matt Mullins clears 12 feet, 6 inches during the Class D Pole Vault Final Friday afternoon. Mullins finished 6th in the event.
Falls City Sacred Heart's boys had the best finish amongst the area schools. The Irish had nine boys compete and collectively they tallied 22 points to finish in a three-way tie for 8th place in Class D with Bertrand and Loup City.
Ben Railsback, the lone male competitor for Humboldt-TR-S, finished fifth in the pole vault with a height of 13 feet, 6 inches, which accounted for all four of the Titans points in the Class C standings.
Emily Rohrer's eighth-place finish in the Class D shot put event was the lone point for the Lady Irish. Rohrer, a sophomore who broke the school record earlier in the month, tossed the shot 37 feet, 5 1/2 inches Saturday afternoon.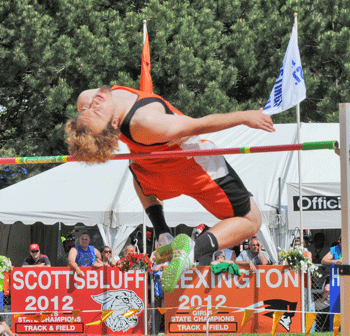 FCHS sophomore Zach Jordening qualified for the second-straight year in the Class B High Jump and finished 10th. Photo by Jim Langan.
Falls City High's representatives competed in Friday afternoon's Class B session. Mitchell Harling, a junior, was 10th in the triple jump (41-05) and 16th in the long jump (19-04). Sophomore Zach Jordening cleared six feet in the high jump, but was not able to match his state-qualifying height of 6-2 that he cleared at the district meet and finished 11th. Senior Cord Huettner threw the shot 47 feet, 11 3/4 inches, but did not qualify for finals and finished 16th overall.
Chaz Dunn, a junior at FCSH who won all four events he competed in at the district meet two weeks ago, had a rough start to the day Saturday morning when he lost a shoe and raced the final 450 meters of the 800-meter final without his left sneaker. Unperturbed, Dunn ran a personal best time of 2:01.74 and finished fourth.
| | |
| --- | --- |
| | |
| | FCSH junior Chaz Dunn literally ran out of his shoes (well one of them anyway) during Saturday morning's Class D 800-meter final. Dunn lost his left shoe late in the first lap and raced the final 450 meters with only his right shoe on, but still managed 4th place. Photo by Jim Langan. |
Shortly thereafter, Dunn joined seniors Lane Barnhill and Clay Finck and sophomore Sawyer Kean on the Irish's third-place finishing 400-meter relay. Dunn then headed straight to the finals of the long jump where he made one attempt, but hyperextended his knee and withdrew. The injury also kept him out of the day's final event, the 1,600 meter relay.
Finck filled in for Dunn and the 4×400 team of Barnhill, Kean and freshman Henry Arnold finished fourth.
Finck qualified for the finals of the 100-meter dash, as did Barnhill in the 400 meters. Each finished eighth in their respective events with Finck running a time of 11.57 seconds in the 100 and Barnhill coming around in 52.77 in the 400. Finck raced in Friday's 200-meter dash prelims but did not qualify for Saturday's final.
Irish senior Matt Mullins had a great final two weeks to his track career and followed up a second-place finish at districts with a sixth-place finish in his first appearance at this year's state meet. Mullins vaulted 12 feet, 6 inches and bested his district height by nearly one foot during Friday's Class D pole vault finals.
Irish sophomore Austin Malone earned one team point with his eighth-place finish in the triple jump (41-10.5). Junior sprinter Yianni Haralabidis competed in the prelims of the 100-meter dash Friday afternoon, despite having multiple stitches in his right shin from an accident he was in earlier in the week. Kean replaced him in the 4×100 relay.
The Lady Irish had a tougher go of things, but with no seniors competing and five of the six girls being sophomores or freshmen, FCSH should make some noise in the years to come.
Sophomore Kelsi Fouraker finished 14th in 800-meter finals Saturday morning with a time of 2:32.40. Freshman Maggie Goltz qualified and competed in both the long and triple jump, but did not reach finals in either event. Sophomore Elizabeth Magdanz vaulted 8-feet even in the pole vault, which placed 19th.
Other Irish athletes who competed but did not reach finals were senior Will Burenheide (110M hurdles), freshman Henry Arnold (Triple Jump, 400M), junior Rachel Parrish (100M hurdles) and sophomore Abby Magdanz (Pole Vault).
Hartington won the Class D boys' title with 55 points, followed by Paxton which edged Cambridge for runner-up honors by one-half of a point, 46.5 to 46.0.
| | |
| --- | --- |
| | |
| Lady Irish junior Rachel Parrish runs the 100-meter hurdles Friday afternoon. Photo by Jim Langan. | |
St. Mary's were the Class D girls' champs with 56 points and Arapahoe were second with 50 points.
Elkhorn South won the Class B boys' championship and Auburn, led by Nebraska recruit Tierra Williams' four gold medals, took home their first girls' state track title. Auburn freshman Maggie Rieschick finished third in the 300-meter low hurdles, but did not qualify for the 400-meter finals.
Thayer Central were Class C champs on the boys' side, while Kearney Catholic took home the girls' Class C title.