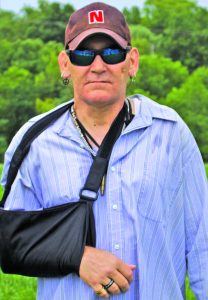 Clyde Wayne Burns, 53, of Tecumseh was born on May 28, 1970, in Falls City, Nebraska to Ralph Wayne Sr. and Delma Margaret (Krueger) Burns.  He attended elementary school in Salem and then attended Dawson-Verdon High School.  He has worked and lived in various areas of southeast Nebraska over the years.  Clyde passed away on August 30, 2023, at his home in Tecumseh.  He is preceded in death by his parents.
Clyde is survived by his siblings: Chad Burns (Mary) of Carrollton, TX; Brianna Hollaway (Richard) of Charlotte, NC; Clay Burns of Salem, NE; Ralph Burns Jr. of Urbana, MO; Britinna Burns of Dawson, NE; and other nieces, nephews, relatives, and friends.
A private family inurnment will be held at the Maple Cemetery in Salem, Nebraska at a later date.
Memorials may be given to the family's choice with a later designation. Wherry Mortuary, Tecumseh was in charge of arrangements.