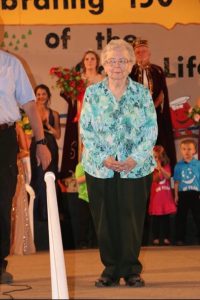 Shirley Arlene Stevicks was born to Lyle and Emma (Faris) Raper on June 15, 1931 in Pawnee City, Nebraska.  She attended rural Pawnee County country school and graduated from Lewiston High School in 1948.  Shirley received normal training and taught for a time at a rural Pawnee County school. 
She was united in marriage to Charles Stevicks on June 19, 1949 at Dr. Heim's home in Humboldt, Nebraska.  The couple lived in several places in southeast Nebraska, eventually buying their home in Humboldt in 1972, where she resided until her passing.   Charles passed away April 20, 1999.
Shirley was a long-time, active member of the Christian Church in Humboldt and the Rebecca Lodge.  She did house cleaning and laundry for Mrs. King and the Marburger family. Then she went to work at SENCA as a cook and later worked at the Marburger Sewing Factory.   After retiring from sewing, Shirley served as a foster Grandmother at the HTRS Schools for many years.  Children and teaching were her first love and she looked forward to seeing them each day.  She was also dearly loved by the children who she worked with.  Shirley enjoyed raising a garden, canning and flowers. She was recognized recently as the Woman of the Year for the Richardson County Fair.  
She passed away January 10, 2023 at her home in Humboldt, Nebraska at the earthly age of 91 years. 
Shirley will be fondly remembered by her children, Sally Rieger and husband John of Falls City, Carol Stevicks of Falls City, Alan Stevicks and wife Ann of Tulsa, OK, Susan Stevicks of Humboldt, Bruce Stevicks of Falls City and Scott Stevicks and wife Melissa of Atglen, PA, grandchildren, Julie Collier and husband Mark of Falls City, J.C. Rieger and wife Sarah of Valley Springs, CA, Jake Rieger of Falls City, Jason Rieger and wife Marj of Chicago, IL and Jonathon Stevicks of Tulsa, OK, brother-in-law Bill Stevicks of Dawson, sister-in-law Darlene Stockard of IA and numerous nieces, nephews and friends. 
She was preceded in death by her parents, husband Charles, brothers Bill, Robert, Jack and Joe Raper, sister Lucile Ulrich and numerous brothers-in-law and sisters-in-law. 
Funeral services were held at 10:30 a.m., Monday, January 16, 2023 at the Christian Church in Humboldt, Nebraska with Pastor Howard Blecha officiating. Rebecca Smith, pianist, accompanied congregational hymns, "In The Garden", "The Old Rugged Cross" and "How Great Thou Art." Interment was in the Heim Cemetery, rural Dawson, Nebraska.  Memorials may go to the family's choice.  Services were entrusted to Wherry Mortuary, Humboldt, Nebraska.