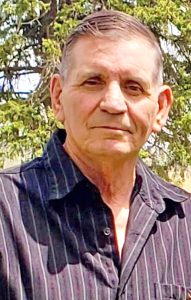 Gregory Vance Iliff, 66, of rural Humboldt, Nebraska was born in Omaha, Nebraska on May 27, 1956, to Richard and Helen (Harmon) Iliff. He spent his early childhood years growing up on the family farm northeast of Humboldt and attended Bratton Union Consolidated School.  In 1974, his family moved to Stella where Greg graduated from Southeast Consolidated High School.  He served in the United States Army from 1976-1978 where he drove a tanker truck while stationed in Frankfurt, Germany for a year and a half.  Greg was honorably discharged in 1978 and returned to southeast Nebraska. Over the years, he has worked various jobs as warehouse manager, production manager, maintenance manager, shift supervisor, and line lead.
Greg was a big Husker fan as well as a Kansas City Chiefs fan. He loved playing cards, especially with the "Eastside Poker Team", while trying to out beat Bobby, Robbie and Terry as well as his wife Lou Ann. He enjoyed mushroom hunting, playing guitar, boating, camping with his family, gardening and mowing the yard where he always had to keep up with Marty. Greg loved the 4th of July and always had some sort of party at his house for that particular holiday.  But most of all, he loved his three grandchildren.  Greg was proud to watch all their performances, and sporting events, but loved playing and teasing them the most.
Greg passed away at his home in Humboldt on Wednesday, December 21, 2022, having reached the age of sixty-six years, five months, and twenty-four days. He was preceded in death by his parents and step-mother Mary Iliff.
Greg is survived by his loving wife Lou Ann Iliff of Humboldt, NE; daughter Jaime Frey and husband Cory of rural Dawson, NE; grandchildren: Katie Frey of Omaha, NE; Hunter Frey of Humboldt, NE; Jazi Frey of rural Dawson, NE; a sister Sandy Hall and husband Dave of Tecumseh, NE; and many other nieces, nephews, relatives, and friends.
Funeral Services are pending.
Visitation is pending.
Memorials contributions are suggested to the family for later designation.
Condolences may be shared online at www.wherrymortuary.com
Services entrusted to Wherry Mortuary, 207 N. Nemaha Street-Humboldt, Nebraska 68376 (402) 862-2915.