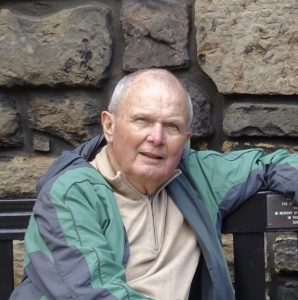 Richard "Andy" McMullen, born August 31st, 1935, was the comedic instigator of many political debates, lovingly throttled family arguments by citing financial articles of the Wall Street Journal, and was considered a hero by his three children by not succumbing to an early nervous death by the sheer number of their catastrophic events relayed by early morning telephone calls. He was part owner of the State Bank of Stella, and self-proclaimed "bean-counter" accountant and taxman. He was a connoisseur of happy hour and dark beers, proper calculations, reliable, sure-footed horses, but a mortal enemy of hugs, photographs, or frivolous conversations. 
Residing most of his life in Stella, NE with his wife Jan Warrick McMullen of sixty-two years, most of his hobbies centered around the tending their one-hundred-sixteen-year-old, three-story, Victorian house. He spent many a hot summer day sweating on a lawn mower, hanging off precarious ladders while donning window awnings, or capturing errant bats and snakes hibernating in the basement. A "simple solution" man in tenuous situations, he spoke of once transporting a Shetland pony in the back of a 72 Ford sedan, and pushing a horse off a railroad trestle when faced with the possibility of being hit by a train. 
His iconic red pickup truck was often seen around Stella with their dog Buster in the backseat. Six mornings a week, the truck would be parked in front of his "retired" downtown office called the "annex" that housed 1980's fitness devices, boxes of wine, and a napping couch, in which absolutely neither work nor exercise was accomplished, but many early morning coffees and conversations occurred. 
He is survived by his wife, three children, and Buster, who are more surprised than anyone that he defied the odds this long, considering his long history with car accidents and a trigger-happy defibrillator. 
He was preceded in death by many great people.
A graveside memorial service and committal was Friday, September 23, 2022, at the Stella Cemetery.  Rick McMullen officiated and gave the message, John and Lillie McMullen presented readings, and Susie Bruning added reflections. Mary Lauber sang a solo, and special pre-recorded music was played.
Services were entrusted to Hemmingsen Funeral Home of Auburn.