Jodene Rai (Hollis) Werner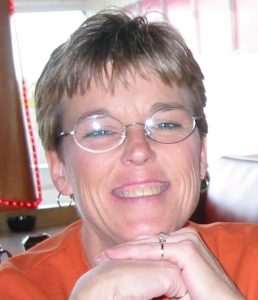 Jodene Rai (Hollis) Werner was born to Raymond Lee and JoAnn (Monhollon) Hollis on October 28, 1955, in Wetmore, Kansas. She passed away peacefully at her home in Tecumseh, Nebraska, on July 21, 2022.
Jodene grew up in Goff, Kansas and was active in the Goff Methodist Church and the Rustler's 4-H Club. She enjoyed learning to sew, cook and attending summer camps. In high school, Jodene was a member of the Wetmore Basketball Team and played the flute in the band. She graduated from Wetmore High School in 1972, a year early, and went on to attend Highland Community College and Kansas State Teachers College. She received her Undergraduate Degree in Business from Peru State College and her Masters of Business Administration from the University of Phoenix.
Jodene was united in marriage to David E. Werner in Goff, Kansas, on April 27, 1974. To this union, three children were born. Jodene worked in the Business/Accounting field at Tecumseh Federal Bank. Her interests in her spare time included travel, golf, spending time with family and friends, riding motorcycles with Dave, chasing grandchildren, watching sports, cooking and baking, knitting, gardening, reading, shopping, fishing, camping and listening to music.
She is survived by her children, Crystal Werner and fiance' Chris Chapman of Longview, WA; Nathan and Melissa Werner of Tecumseh, NE and Misty and Clint Strayhorn of The Dalles, OR; grandsons, Michael and fiance' Kristina Yaschenko of Portland, OR, Kollin Strayhorn, Cameron and Elliott Werner, sister, Jennifer (Frank) Mueseler of Powhattan, KS, sisters-in-law and brothers-in-law Deb and Bruce Dalluge of Tecumseh, NE and Roberta and Bill Royse of West Des Moines, IA and her beloved nieces. She was preceded in death by her husband Dave (September 14, 2014), parents Raymond and JoAnn and parents-in-law Robert and Colleen Werner.
Funeral services will be held at 10:00 a.m. Friday, July 29, 2022, at the Wherry Mortuary in Tecumseh, Nebraska, with Pastor Ken Tubbesing officiating. The service will be live-streamed on the Wherry Mortuary/Wherry Monument Facebook page.
Visitation will be held from 12:00 p.m. to 8:00 p.m., with family greeting friends from 6-8 p.m., Thursday, July 28, 2022, at the Wherry Mortuary in Tecumseh, Nebraska.
Memorials may go to the family's choice. The interment will be in St. Mark's Lutheran Cemetery, rural Verdon, Nebraska. Services entrusted to Wherry Mortuary, Tecumseh, Nebraska.