Charol Lynn (Heim) Pleiss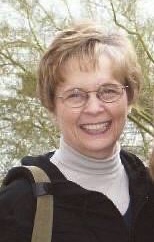 Charol Lynn (Heim) Pleiss, 79, of Omaha, Nebraska, was born on May 12, 1942, in Seward, Nebraska, to Harold Lloyd and Charlotte (Moorman) Heim. She grew up in Dawson, Nebraska, and was the oldest of four children. Charol attended school in Dawson through her high school graduation. She went to Wesleyan University for a short time before marrying Wayne Knudsen. They had three children, Kris, Linda, and Kent. In 1982, she married Dan Pleiss and became step-mom to Deb and Phil. Nine grandchildren and two great-grandchildren soon followed. 
Charol's life began with a story. When she was born, her parents decided it would be fun to combine their names to create her name. So, Charlotte and Harold became Charol. And for the next 79 years she told this story to those who asked why her name was spelled C-H-A-R-O-L.
Her hobbies included sewing, knitting, and puzzles of all kinds. Charol was also an avid reader. While she was especially interested in Nebraska authors and stories, she read a wide variety of fiction and nonfiction, and enjoyed her time in book clubs over the years. Always reading; always learning.
One of Charol special interests was genealogy, and in particular the history of the Heims and other families who settled in Dawson, Nebraska in the nineteenth century. Always active in the Pennsylvania Colony Historical Society, she worked for many years as the secretary of that organization, and was instrumental in establishing the Penn Colony Museum. She spent time working with her Aunt Shirley, Keith Heim, and others to produce the newsletter. Her work also included fundraising, acquiring historical items and documents for the museum, and arranging the annual watermelon feed and picnic. She always enjoyed visiting with family and catching up with old friends and neighbors at these events, which were the culmination of a long year of hard work. Charol felt a strong connection to the past, and her commitment to the Penn Colony was a celebration of that connection and a way to share that connection with others.
Working together side-by-side, Dan and Charol started their own CPA firm and ran it very successfully when they decided to merge with another firm in the mid-1980s. After a few more years with that firm and then starting their own CPA business again, they retired in March of 2021, making many lifelong friends along the way.
On February 22, 2022, with her family by her side, Charol passed away at her home in Omaha, Nebraska. She was preceded in death by her parents; niece Stacie Olson.
Charol is survived by her husband, Daniel; children: Kristin (Bruce) Eckhardt of Lincoln, NE, Linda (Robert Cavigli) Knudsen of Anthem, AZ; Kent (Ann) Knudsen of Omaha, NE; Debra (Richard) Clopton of Auburn, NE; Philip (Marian) Pleiss of Omaha, NE; grandchildren: Matt (Jessica) Eckhardt of Lincoln, NE; Jennifer (Ryan) Adams of Phoenix, AZ; Chelsea (Jesse Sanchez) Eckhardt of Vicenza, Italy; Jim Kinghorn of Omaha, NE; Audrey Knudsen of Omaha, NE; Jane Knudsen of Omaha, NE; Ellis Clopton of Lincoln, NE; Danielle (Robbie) Gilbert of Omaha, NE; Jenni (Calloway Tims) Pleiss of Omaha, NE; great-grandchildren: Eleanor Eckhardt, Jackson Adams; brothers: Doug (Judy) Heim of Omaha, NE; Don Heim of Atkins, AR; and sister: Barbara (Gary) Schacht of Petaluma, CA; aunt: Shirley (Neal) Pierce of Salem, OR; and many nieces, nephews, cousins, and friends. 
Funeral services were held on Sunday, February 27, in Omaha, NE, at Heafey Hoffman Funeral Home. Pastor Glenn Schacht officiated. Interment was on Monday, February 28, in Dawson, NE, at Heim Cemetery. Officiants were Glenn Schacht and Charol's dear friend, Pastor Mary Ellen Gaither-Marburger of Humboldt, NE. Charol's son-in-law, Rich Clopton, recited the poem Last Fragment by Raymond Carver. A luncheon followed at the Pennsylvania Colony Historical Society of Nebraska Museum in Dawson, NE. Memorial contributions may be given to the Pennsylvania Colony Historical Society.