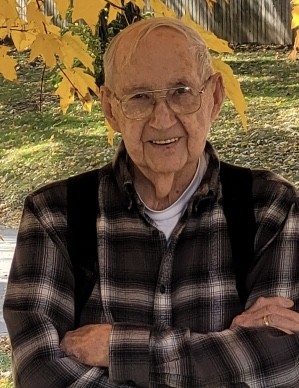 Gerard H. Timothy, age 95 of Nebr. City passed away on Sunday, December 5, 2021.  On September 23, 1926, Cosmas and Kathleen Timothy welcomed their ninth child in Falls City, NE. They named him Gerard Henry Timothy.  He grew up and attended school in Falls City, graduating with the Class of 1944.
When he graduated in 1944, he joined the Navy. He was sent to telegrapher's school in Wisconsin to learn Morse code and other ways of shipboard communication. Upon completion of these studies, he was transferred to the shipyards in Norfolk, Virginia. He was honorably discharged on June 4, 1946.  He obtained the rank of Petty Officer. After the war's end, he returned home to Falls City with his sea bag, and dress whites, and worked briefly at the variety store where he would meet his future bride, Ruby Mae Schneidewind.
The railroads were looking for telegraphers, so he accepted employment with the Missouri Pacific Railroad. His career with the Missouri Pacific would span 40 years. He married Ruby Schneidewind on September 4, 1951 and to this union three boys were born:  Dennis, Kevin and Phillip.
He was a member of St. Mary's Catholic Church in Nebr. City and a former member of St. Joseph's Catholic Church south of Nebr. City.
When Gerard turned 62, the railroad offered him an early retirement buyout. He didn't hesitate. He and Ruby enjoyed their time together by remodeling the house, and shopping
Life was idyllic for Gerard and Ruby for many years, until she passed after a brief illness on September 5, 2002.  In addition to his wife Ruby, Gerard was preceded in death by his parents and 8 siblings.
He leaves behind three sons. Dennis Timothy of Dodge, NE, Kevin Timothy of South Sioux City, NE, and Phillip Timothy and wife Chris of Nebraska City, NE; three grandchildren:  Elaine and Kelly Thompson of Farragut, IA, Megan Pierce and fiancé Matt Rumbaugh and his children Myla and Lennix and Ben Timothy of South Sioux City, NE and one great-grandson Foster Pierce of Omaha.
A Funeral Mass will be held at 11:30 a.m. on Tuesday, December 14, 2021 at St. Mary's Catholic Church in Nebr. City with Fr. Tom Schultes officiating.  Burial will follow at St. Joseph's Cemetery by Paul, NE.
The family will greet friends from 5:00 p.m. to 7:00 p.m. on Monday (12/13) at Gude Mortuary in Nebr. City.  A Rosary will be recited at 7:00 p.m.
Memorials are suggested to the Multiple Sclerosis Foundation.
Condolences may be left at www.gudefuneralhomes.com.  Gude Mortuary in Nebr. City is in charge of arrangements.