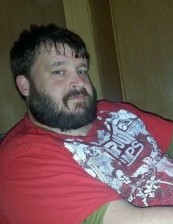 Andrew Scott Vaughan, 36, of Falls City, Nebraska, passed away unexpectedly on Wednesday, May 5, 2021, near Hiawatha, Kansas. He was born in Pawnee City, Nebraska, on June 11, 1984, and was raised in Falls City, where he received all of his schooling. Andrew graduated from Falls City High School with the class of 2002. He was currently employed at Crosswinds Industries, Inc. in Sabetha, Kansas, where he had worked for over a year. Andrew liked watching wrestling and scary movies, listening to Ozzy Osborne music and following the Boston Red Sox. He most of all enjoyed spending time with his family, especially his uncles.
Andrew is survived by his loving mother Lori Vaughan of Falls City, NE; a brother J.T. Tisdel and special friend Samantha of Falls City, NE; uncles: Chuck Vaughan and wife Karen of Dawson, NE; Rick Vaughan and wife Daggi of Humboldt, NE; Steve Vaughan and wife Nancy of Sioux Falls, SD; Jeff Vaughan of Humboldt, NE; Justin Vaughan and wife Ronda of Bennet, NE; an aunt Dena Vaughan and special friend Mike Taiclet of Humboldt, NE; a niece Cassidy Tisdel of Falls City, NE; and many other relatives and friends.
Funeral Services will be held at 10:30 a.m. on Tuesday, May 11, 2021, at the Wherry Mortuary, 207 N. Nemaha Street in Humboldt, Nebraska, with Pastor Howard Blecha officiating. Interment will follow services at the Humboldt Cemetery in Humboldt, Nebraska.
Visitation will be from 9 a.m.- 8 p.m. on Monday, May 10, 2021, at the Wherry Mortuary, 207 N. Nemaha Street in Humboldt. Family will greet friends from 5-7 p.m. at the mortuary.
Memorial contributions may be given to the family with a later designation.
Condolences can be shared online at www.wherrymortuary.com.