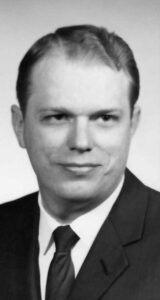 Gerald R. Timothy, 83, of Champaign died at 9:58 p.m. Saturday, January 2, 2021 at Carle Foundation Hospital, Urbana.
Visitation will be held from 4:00 p.m. – 6:00 p.m. Thursday, January 7, 2021 at Meadowbrook Community Church, Champaign with a memorial service to follow.  Morgan Memorial Home, Savoy is in charge of arrangements.
Gerald was born on October 10, 1937 in Falls City, Nebraska, the son of Raymond E. and Ora Hailey Timothy.  He married Carol V. Curd on June 19, 1965 in Bellevue, Nebraska, she survives.
Also surviving are three sons, Michael A. (Mary E.) Timothy, Sean (Jennifer) Timothy, Robert C. (Nicole) Timothy all of Champaign, one daughter, Rebecca E. Timothy of Champaign, six grandchildren and several nieces and nephews.
He was preceded in death by one sister, Jane Anne Wenz of Crete, NE.
Gerald was a U.S. Navy veteran.
He retired as an insurance underwriter.
Gerald was a deacon of Stone Creek Church, Urbana.
He was a member of the Knights of Columbus and the NRA.
Gerald loved hunting and spending time with his family and grandchildren.
In Lieu of flowers memorial contributions may be made to the Cystic Fibrosis Foundation or the Alzheimer's Association.
Condolences may be offered at www.morganmemorialhome.com.