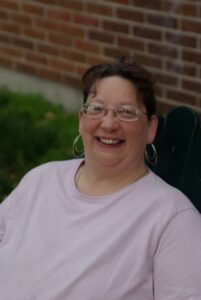 , one of three children of Marv and Pauline (Schultz) Harring, was born August 1, 1965, in Lincoln, .  Martha grew up and attended school in Lincoln, graduating from Lincoln High in 1985.  
Martha had previously been married, to which she was blessed with two sons:  Thomas Root and Matthew Harring.  
While she was able to work, Martha served as a Certified Nursing Assistant for several different care centers and nursing homes.  She worked as a CNA for 18 years.  
Martha was a collector of sorts, Ladybug and Elvis memorabilia being her favorites.  She also enjoyed gardening and being outdoors, and loved making people laugh.  
Martha was admitted to Good Samaritan Society in Auburn and it was there that she passed on Friday, August, 28, 2020, just 27 days after her 55th birthday.  
She was preceded in death by her parents.  
Those left to mourn her passing include her fiancé David Troeger of Tecumseh; sons Thomas Root and fiancé Christa Pagnano of Dawson, Matthew Harring of Tecumseh; brothers Eric (Linda) Harring of North Carolina, Michael John Harring of North Carolina; special friends Fina O'Brien of Topeka, KS, Barbara Barnes of Holdrege, Linda Schultz of Tecumseh; other relatives and friends.    
A graveside memorial and committal service, officiated by Pastor Doug Delhay, was Friday, September 4, 2020 at St. Mark's Lutheran Cemetery near Verdon. Matthew Harring was honorary bearer.
Services were entrusted to Hemmingsen Funeral Home of Auburn.