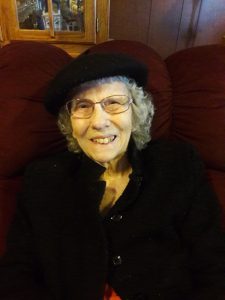 Ola Lee (Albin) Riley, 89, of Humboldt, Nebraska, was born on February 5, 1931, at home in rural Humboldt, Nebraska, to Fred and Fannie (Bacon) Albin. She attended Honey Creek School and graduated in 1948. After attending school at Peru Teacher's College, she taught in Athens one-room schoolhouse south of Humboldt. 
On April 7, 1951, Ola was united in marriage to Richard (Dick) Riley at St. Mary's Catholic Church in Dawson, Nebraska. Seven children were born to this union: Vincent, Mark, Patrick, Richard (Ken), Elaine, Michael, and Martin. While Richard served in the Air Force, their family lived in England; Altus, OK; Lincoln, NE; Wichita Falls, TX; Kaneohe, HI; Boulder, CO; Omaha, NE; and Bleidenstadt, Germany before retiring to Humboldt, NE in 1969.  Ola began working as a veterinarian assistant for Dr. Tom Jacobitz in Stella, Nebraska, until 1982, when Dick and Ola became houseparents at Omaha Home for Boys for 11 years. 
 Ola died at home on Tuesday, May 5, 2020.
She was preceded in death by her parents; sisters Dottie Lee, Phyllis Taylor, Glennis Dolan, and a brother Ken Albin. Ola is survived by her children: Vincent (Janice) Riley of Humboldt, NE; Mark (Jamie) Riley of Papillion, NE; Patrick (Sandy) of Sidney, NE; Ken Riley of Auburn, NE; Elaine Riley of Raymore, MO; Mike (Cindy) Riley of Maryville, MO; and Marty (Rhonda) Riley of Hickman, NE; 19 grandchildren, 21 great-grandchildren; and 2 "adopted" grandchildren Josh and Sara Orr; and many other relatives and friends.
A Funeral Mass will be held at 10:00 a.m. on Friday, May 8, 2020, at St. Mary's Catholic Church in Dawson, Nebraska, with Father Kenneth Hoesing officiating.  A rosary will be recited by Father Kenneth Hoesing at 9:30 a.m. prior to mass.
Visitation will be held from 1-8 p.m. on Thursday, May 7, 2020, at the Wherry Mortuary, 207 N. Nemaha Street, in Humboldt, Nebraska.
Interment will be at the Humboldt Cemetery.
Memorial contributions may be given to St. Mary's Catholic Church or Ascera Care Hospice.
Condolences can be shared online at www.wherrymortuary.com
Services entrusted to Wherry Mortuary- 207 N. Nemaha ST.- Humboldt, NE 68376 (402) 862-2915
Pallbearers are Josh Orr, Andrew Riley, Nate Riley, Luke Riley, Ben Riley, R.J. Riley, Chris Riley, Matt Riley, and Scott Riley. Honorary pallbearers are Heather Swanson, Hannah Riley, Sarah Carlson, Rachel Harden, Amy Koozer, Beth Wingo, Kerry Riley, Krista Riley, Elaina Riley, and Sarah Orr.