Charles Herbster guest at President Donald J. Trump's State Of The Union Address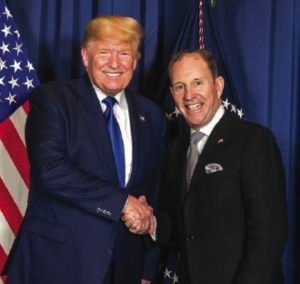 Charles W. Herbster, a life-long Falls City resident, had special VIP seating at the United States Capitol in the chamber of the United States House of Representatives last week when President Donald J. Trump gave the State of the Union address live to the American people. As the Chairman of the Agricultural and Rural Advisory Committee to President Donald J. Trump, Mr. Herbster continues to work closely with the President on key issues affecting the agricultural community.
During his week in our nation's capital, Mr. Herbster had a schedule packed with events. He was at the United States Senate acquittal of President Donald J. Trump on Wednesday, February 5. He witnessed each United States Senator stand and cast his or her vote of "guilty" or "not guilty." On Thursday, February 6, Mr. Herbster was a VIP guest at the National Prayer Breakfast. The National Prayer Breakfast is a yearly event held at the Hilton's International Ballroom in Washington, D.C. It is a prayer gathering that was attended by President Donald J. Trump and people from over 140 countries, including business professionals, many United States Senators, Congressmen and Congresswomen. "My faith is very important to me," said Mr. Herbster. "It was very powerful to pray for our country together at the National Prayer Breakfast. Standing together makes this country the best it can be." During Mr. Herbster's time at the event, the buzz of American optimism was all around him. "Our farmers, ranchers, and American businesses have a bright future with our great economy. The signing of Phase 1 of the Chinese Trade Agreement and the U.S.-Mexico-Canada Agreement (USMCA), which replaces NAFTA, helps ensure the future of these hard-working Americans. The dedicated individuals I met with helped make the economy in the United States what it is today," said Mr. Herbster. Earlier this year, at the Mar-a-Lago Club in Palm Beach, Florida, he met with various members of the Republican National Committee (RNC) and President Donald J. Trump. While in Florida, he also attended an exclusive dinner at the world-renowned property with President Trump. "I am excited to be a part of the assembly of individuals who are working to help re-elect President Trump in 2020," said Mr. Herbster about the prestigious activities at Mar-a-Lago.