Doris Diane (Strahm) Wentz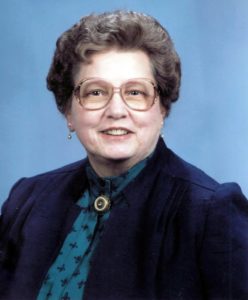 Doris Diane (Strahm) Wentz, 92, of Sabetha, Kansas died peacefully on Wednesday, July 17, 2019, at the Apostolic Christian Home.
Diane was born in Bern, Kansas on June 19, 1927, the third child of Uhlrich and Ruth (Kinyon) Strahm. After graduating from Bern High School in 1945 she attended Clark's Business College in Topeka, KS. While working at the Wentz Equipment Company in Topeka, KS, she met Robert Wentz. They were married in 1950 in Cochranton, PA., and raised their family in Falls City, NE.
Diane was a loving wife, mother, grandmother and great-grandmother. She was a member of Immanuel United Methodist Church. She spent countless hours volunteering in various school and church activities. She enjoyed gardening, fishing, crocheting, gathering pine cones and rocks, and singing alto in the church choir.  
Diane was preceded in death by her parents; her husband, Robert E. Wentz; her sister, Kaye Wikle and Kaye's husband, Guy; her brother, Leslie Strahm; and her sister-in-law, Nina Strahm.
She is survived by her three children, Susan Wentz of Falls City, NE, Thomas (Cindy) Wentz of Goodman, MO, and Sara Wentz (Aileen Ball) of Lawrence, KS; her grandson, Eric Wentz (Shauna Kister) of Lincoln, NE; her step-granddaughter, Amie (Martin) Munoz of Anderson, MO; her great-granddaughter, Odyssey Wentz of Lincoln, NE; her step-great-grandchildren, Martin and Natalee Munoz; and her brother, Hal Strahm of Terre Haute, IN; and many nieces and nephews.
The family wishes to thank the Apostolic Christian Home for their many years of wonderful care for Diane.
Funeral services were held Saturday, July 20, 2019, at 10:00 a.m. at the Popkess Mortuary Chapel in Sabetha. Visitation was 9:00 a.m. to 10:00 a.m. prior to service time at the funeral home. Interment was made in the Bern Apostolic Christian Church Cemetery. Memorial contributions may be made in Diane's name to the Apostolic Christian Home, sent in care of Popkess Mortuary, 823 Virginia Street, Sabetha, KS 66534.