Marjory Delyte Jahn Forney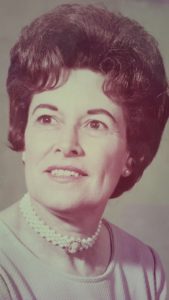 Marjory Delyte Jahn Forney, 98, born April 1, 1920, in Falls City, passed away peacefully surrounded by family on March 18, 2019. 
She was preceded in death by her parents Mike and Anne Maude (Stump) Jahn and her husband Paul Forney of Hamlin, Kansas. 
She was the second eldest of nine siblings, three of which preceded her in her passing. 
She was a loving mother, grandmother and great grandmother to her three children: Jay and Linda (Forney) Nenninger, Ron and Kathy Forney and Ed and Patti (Forney) Cooper, her six grandchildren, and her 15 great-grandchildren. 
Marge moved to  Phoenix in 1959 with her husband and three children, where she was a member of the Church of Brethren, Morrill, Kansas and Arizona, an avid team bowler and in her spare time a singer. Her kindness and sense of humor was a gift to all those who knew and loved her. Her legacy is sown into the memories and stories she shared and created so effortlessly. She left a mark on our hearts that we are forever grateful for. She was greatly loved and will be terribly missed.
The Funeral service will be at Phoenix Memorial Park on Friday, March 22, 2019, at 1 pm. In Lieu of flowers, donations to Hospice of the Valley are appreciated.