Historic B-17 wing panel draws a crowd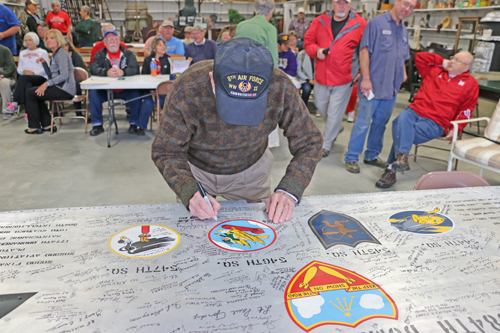 The colorful eight-foot wing panel of a B-17 Flying Fortress bomber which had such an important roll in the World War II Air War against the German Luftwaffe was on display for several hours at the Richardson County Historical Museum Saturday.
    The event was hosted by Historical Society Members. Approximately 65 persons came to view the panel and to witness the signing by Bill Schock, a B-17 pilot in the 8th Air force 384th Bomb Group.
    The panel has been making the rounds of the U.S. since 2010, collecting the signatures of the survivors of the 384th Bomb Group. It was brought to Falls City by Dr. Mark Meehl and Dr. Russell Moulds of Concordia University in Seward. Dr. Meehl is a historian for the Bomb Group.
    The panel has been signed by 138 Veterans of the 384th Bomb Group. It will go to Denver and then to Golf Port, MS, and the 8th Air Force annual reunion in St. Louis, MO. It will eventually—probably soon—be an artifact in the 384th Museum in Ogden, UT.
    The wing panel includes the colorful insignias of each of the bomb group's three squadrons The Veterans signing it in the panel area of their particular squadron's insignia. Schock signed it in the area of the 546th Squadron.