GOLTZ: 'IT TRULY WAS A DREAM SEASON'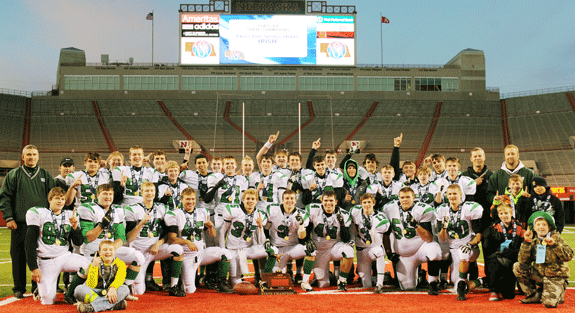 By Jason Schock
Falls City Sacred Heart family and friends celebrated a dazzling 2013-14 high school athletic campaign Saturday night at the annual activities banquet held at O'Connor Hall.
FC Sacred Heart's 2013 Class D2 State Football Championship stands atop the list of Irish accolades from the past school year, but there was – and continue to be – much more to celebrate. Every team qualified for its respective state tournament and both the Irish girls' and boys' basketball teams finished the year with state consolation game victories and third-place finishes at state. Currently, the FCSH boys' track team is in position to easily win its district this Wednesday and then advance to Omaha and challenge for a Class D state title.
After Master of Ceremonies Bob Aitken welcomed the crowd, Fr. David Oldham gave the Invocation, and a potluck dinner was served, Bill Rowan of the Knights of Columbus presented a check of $3,360 to School Supt. Msgr. Robert Roh. Proceeds generated by the annual fish fry, the money will be directed to the new activities building fund, Roh said. In accepting the donation from the Knights, Roh also announced an $80,000 gift from the late Raymond Finck that will go to the endowment fund. Mr. Finck, an major supporter of FCSH School, passed away on Jan. 26 of this year. He had purchased a life insurance policy 20 years ago, Roh said, for the purpose of making the Sacred Heart Endowment Fund the beneficiary.
Later, at the conclusion of the evening, Msgr. Roh announced the groundbreaking for the new activities center would be held following a 9:30 a.m. Mass on Wednesday, May 21. "Back in November, I wouldn't have bet money on it, but thank you all for your help in reaching our goal."  
Msgr. Roh presented the Cecil Murphy Memorial Scholarship to junior Sawyer Kean. The award, given in honor of Murphy, a 1941 Sacred Heart graduate killed in World War II, is presented to the best all-around student and is good for one year's tuition at FCSH.
Principal and Athletic Director Doug Goltz presented letters, participation certificates and other awards to students. He noted that seniors Chaz Dunn, Jarod Fiegener and Colin Niemeyer were academic all-staters in football, basketball and track all three years they were eligible. 
One-Act Play sponsor Pam Smith spoke on this year's performance, "Historically Bad First Dates." Seniors Emma Schock and Dunn, and junior Abbey Neddenriep all earned Outstanding Performance awards at the Pioneer Conference contest, and Schock, Niemeyer, senior Kathryn Bieker, juniors Zavan Kirkendall and Kean, and freshman Bryant Jorn received Outstanding Actor awards at the district contest. 
Head Volleyball Coach Susan Witt addressed the 26-6 state qualifying season in which FCSH won the Weeping Water, HTRS and Pioneer Conference Tournaments. "Our girls played their best at the conference tournament, beating Friend," she said. "Winning that match made it possible to make it to state."
The Irish JV finished the year 15-8 and won the Lewiston Ivite, Witt said. "Our girls worked extremely hard and improved throughout the year." 
First-year Speech Coach Allison Wilson recognized the 19 students who participated in speech this past winter. Neddenriep had the most successful season, finishing third at state in Poetry and fifth in Informative Speaking. 
Band and music instructor Wesley Farewell spoke about his first year on the job. He mentioned Ben Mullins and Sawyer Kean, who competed at the All-State Band competition in Kearny, and gave out the following awards: Top Male Vocalists – senior Wyatt Martin and Kean; Top Female Vocalist – senior Sandy Bangert; Top Band Peformers – Fiegener, senior Rachel Parrish and Neddenriep; Overall – Bieker and freshman Nora Barker. 
Head Girls' Basketball Coach Luke Santo summarized the 27-3 Lady Irish, who set a school record in victories and qualified for the state tournament for a third consecutive year. The seniors – Ashli Jordan, Schock and Bieker – helped FCSH post an 89-20 record the past three seasons. 
This past winter, FCSH won the Freeman Holiday Tournament, finished third at MUDECAS, second in the Pioneer Conference and won its district. 
"Sacred Heart has a problem – and it's a good problem to have. But we're victims of our own success," Santo said. "I really noticed it after the consolation win. It's tough when you have high expectations; you girls had a season most teams would take in a heartbeat. And, most importantly, you did in the right way. You're good role models." 
Strength and conditioning coach Chris Sharpe, who is also the track and field coach, named Bieker the Female Weightlifter of the Year, and Niemeyer the Male Lifter of the Year. 
Sharp briefly discussed the ongoing track season, where the Irish guys easily captured both the Pioneer Conference Indoor and Outdoor Championships. He also mentioned junior Austin Malone, who early this spring broke a long-held school record in the triple jump. 
Goltz went last, addressing the unbeaten state championship football team and the 25-5 basketball campaign. It was the coach's 26th football team – and seventh state title – and 27th basketball team in a career that's seen more than 500 hardwood victories. Yet this was the best of them all, Goltz said. 
"It truly was a dream season," Goltz said. "We had 10 great senior boys, complimented by outstanding juniors and underclassmen. 
"When a team does well, like winning a state championship, it means you have a lot of good players," he said. 
The 13-0 football team similarly dominated the postseason awards. Six players – Chaz Dunn, Jarod Fiegener, Yianni Haralabidis, Daniel Keithley, Brandon Schawang and Austin Malone – were named to the Pioneer All-Conference First Team. Later, Fiegener and Dunn were named captains of the Class D2 Defense and Offense, respectively, and Fiegener, who will play in this summer's Shrine Bowl and has signed a letter-of-intent to play at Doane, was named a Second Team Super Stater (all classes). Schawang, Haralabidis, Niemeyer and Kean earned All-State recognition, too. 
The basketball team just missed similar success, losing to eventual state champion Bancroft-Rosalie in the state semis before rebounding to beat Spalding in the battle for third. That made it no less special for the coach, whose son, Matt, was a standout senior on the team. He called it "the most satisfying and fun" season of his illustrious career. 
"We lose five seniors (Matt Goltz, Dunn, Fiegener, Niemeyer and Sean Strasheim) who were all on the varsity as freshmen," Goltz said. "I started coaching these guys when they were in the fourth grade. I just loved coaching you guys – it was a very special year for me, a year I'll never forget." 
Goltz attributed much of the tremendous success attained by all the teams to a willingness to work hard.
"We have 24 boys and 18 girls out for track," he said. "Most of the time, we outnumber the other schools. Being out for track teaches you how to work hard and it helps in other sports. It's a grind – it's such a tough sport and it's dying in other schools, but still very strong at Sacred Heart. It definitely benefits our athletic program.
"One thing I truly believe – the best teams are the ones where the best players also have the best work ethic," he said. 
"I'm thankful to be your coach and I'm thankful to be at Sacred Heart," Goltz said. "I'll never forget this year."