FCPD officer to be honored at Memorial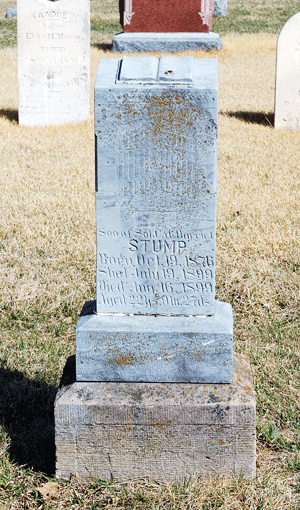 Falls City Police Officer Benjamin Stump was on duty early in the morning of Wednesday, July 19, 1899.  A gunshot rang out striking Officer Stump in the forehead.  He died less than a month later, on Aug. 16, 1899, at about 6 p.m.   
He is buried at Silver Creek Cemetery, north and a bit east of Falls City.  Stump is believed to be the only Falls City Police Officer killed in the line of duty.
Soon, on May 13, his name will be added to the National Law Enforcement Officers Memorial in Washington, D.C.  Officer Stump's name will be formally dedicated at the 26th annual Candlelight Vigil during National Police Week.  
Police Chief Duane Armbruster and former Chief John Caverzagie have been instrumental in adding Stump's name to the Memorial.
Stump, who was born Oct. 19, 1876, in Falls City, the son of Solomon Corbin and Harriet (Forney) Stump, was on routine patrol that Wednesday.  Part of his duties involved meeting the train when it arrived at the Missouri Pacific Depot.  
According to a release, Stump, just 22, was checking boxcars and "picked up two tramps.  He began escorting them from the yard."  Stump "stopped again and discovered someone in car #5763.  He shined his lantern into the car and called for the person to come forward.  Without warning, a shot rang out."
The shot, a .32 caliber, struck the Falls City Police Officer in the forehead.  After falling to the ground, Officer Stump managed to make his way to the depot, "where help was summoned."  Somehow, he survived for almost a month before dying.  The Journal has been unable to determine if an arrest was made in this incident.  
Officer Stump was single.  He was survived by his parents, Solomon, who died in 1902, and Harriet, who passed away in 1927.
The inscription on the gravestone notes that Officer Stump was "born Oct. 19, 1876," and was "shot July 19, 1899."
"It is our honor to inform you that the name of Policeman Benjamin F. Stump of the Falls City, Nebraska, P.D. . . . has been approved for inclusion to the National Law Enforcement Officers Memorial in Washington, DC," the notification read.  
"Traditionally, we invite Honor Guard units from departments who have lost an officer to participate in the various National Police Week events."
For more information about the Candlelight Vigil and other National Police Week activities, visit www.nleomf.com.