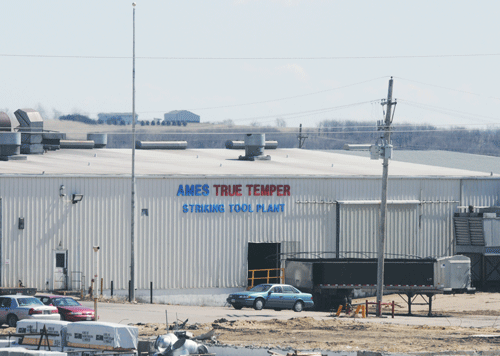 ---
Ames True Temper, a subsidiary of Griffon Corporation, has announced that it WILL NOT, afterall, be closing its Falls City facility and consolidating those operations into its facility in Camp Hill, PA.
The Pennsylvania-based company announced a year ago that the Falls City plant, which currently employs 23 people, would be completely closed by December 2013.
But plant officials twice extended production – first to February and then to April – and on March 19 Griffin Corp. announced Ames would remain a member of Falls City's industrial community.
"We are pleased they will remain as an extremely valuable member of our industrial community," Falls City Edge Director Beckie Cromer wrote, in the latest EDGE newsletter.
"Ames True Temper officials have always been very complimentary about the cost of doing business in Falls City as well as the reliability of our workforce," Cromer said. "They also value the strong work ethic of their loyal employee base. Corporate decisions that impact communities, businesses and families are made every day and Falls City is pleased to accept the most recent decision that keeps Ames True Temper alive and well in our community!"
Griffon purchased Ames True Temper in 2010 for $542 million. Ames is the leading, as well as the oldest, manufacturer of non-powered lawn and garden tools in the U.S.  The company manufactures and markets a wide variety of long-handled tools, wheelbarrows, cutting tools, garden hoses and hose accessories, striking tools, snow tools, decorative garden accessories and planters.