Another consolation prize for Irish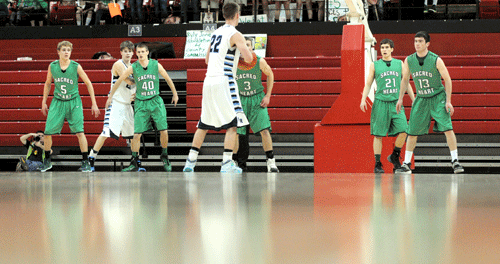 FC Sacred Heart players (from left) Chaz Dunn, Sean Strasheim, Colin Niemeyer, Matt Goltz and Austin Malone defend eventual Class D-2 state champions Bancroft-Rosalie during a semifinal Friday night at the Devaney Center. Photo by Jim Langan.
---
For the second-straight year, a dejected Falls City Sacred Heart team found themselves in Saturday's Class D-2 third-place consolation game of the state tournament, after the Irish were stunned Friday night in a 54-44 semifinal loss to eventual champion Bancroft-Rosalie at the Devaney Center.
Similar to 2013 when the Irish fell to eventual champs Wynot on Friday, FCSH shook off the loss and finished as one of 12 teams in the state to end the season with a victory, capturing third-place Saturday at Lincoln Southeast High School with a 68-55 victory over top-seeded Spalding/Spalding Academy.
"Our guys were really down after losing in the semis for the second-straight year, so you're really not sure how you're going to come back the next day," Irish head coach Doug Goltz said. "I thought our guys set each other up a lot better than the Bancroft game. We were just a lot better, a lot more aggressive from Friday to Saturday."
FCSH, which finished the season 25-5, handled Spalding's full-court pressure and scored 10 of their 17 field goals in the paint during the first half, as they raced to a 43-27 halftime lead. Less than 24 hours removed from a four-point, 2-for-15 first-half performance against the Panthers, the Irish connected on 17 of 33 field goal attempts.
Irish senior Chaz Dunn led the charge early with 17 first-half points and finished with a game-high 23 points.
FCSH also benefited from early contributions from junior Logan Scheitel, junior Austin Malone and senior Jarod Fiegener, who scored seven, six and six, respectively, Saturday in the first 16 minutes. Malone finished with 13 points, Fiegener with eight points and nine boards and Scheitel with seven points, six rebounds. Friday the trio combined for only 10 points – eight of those from Malone.
The Irish converted 13 of 18 free throws in the second half and held off a late charge from the Knights, who trimmed an 18-point lead to seven with approximately four minutes to play. Seniors Colin Niemeyer (6-for-6) and Matt Goltz (3-for-3) combined to go 9-for-9 at the charity stripe in the second half and scored eight points and nine points, respectively.
Coach Goltz said he and his team talked about the opportunities Saturday's game presented, including proving some doubters wrong. 
"I thought our kids showed a lot of fight Saturday," Goltz said. "We talked about it being a chance to play together one more time. Plus I think that a lot of people probably felt we didn't show up ready to go against Bancroft, so we just talked about how that wasn't the way we wanted our last game to be and I thought we showed up Saturday and competed for four quarters."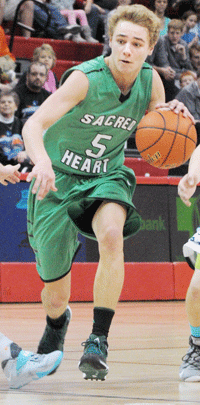 FCSH senior Chaz Dunn splits a pair of Panther defenders – Preston Peters, left, and Carson Tietz – in the first quarter of Friday's 55-44 semifinal loss to Bancroft-Rosalie. Dunn, who struggled to find a rhythm Friday night, bounced back with a game-high 23 points Saturday against Spalding/Spalding Academy in the Irish's 68-55 victory. Dunn was selected to the D-2 All-Tourney team by the Lincoln Journal Star after leading FCSH with 44 points in their three games. Photo by Jim Langan.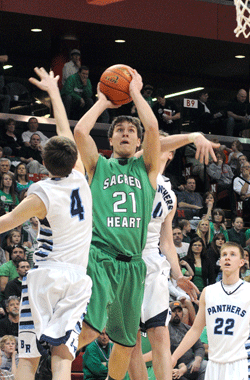 FCHS senior Matt Goltz and the Irish for a second straight year lost in the Class D2 semis, but finished the year with a victory in the consolation game. Goltz recorded his seventh double-double of the season – 15 points, 12 rebounds – against Bancroft-Rosalie and averaged (12 ppg, 10 rpg) a double-double in the Irish's three games in Lincoln. Photo by Jim Langan. 
There were certainly plenty of befuddled basketball fans – Irish or no – following Friday's loss, not because Bancroft-Rosalie advanced, but how they advanced.
"We played as bad as we can play," Coach Goltz surmised after the game regarding the Panthers 27-7 halftime lead.
FCSH turned it over five times compared to zero from B-R and missed 13 of their 15 field goal attempts. Matt Goltz accounted for the two made baskets, despite him being forced to the bench with two fouls midway through the first quarter.
"We missed some shots that we should make and didn't hit a perimeter shot at all in the first half," Coach Goltz said. "We just needed some guys to make some shots and we just didn't."
At the same time, the Panthers knocked down open look after open look and finished 4-for-9 from the three-point line and 11-for-24 from the floor in the first half.
Bancroft-Rosalie cooled off in the second half — 5-for-15 shooting — as the Irish kept it interesting down the stretch. Matt Goltz scored 10 points in the fourth and tallied his seventh double-double of the season (15 points, 12 rebounds) and Niemeyer scored all eight of his points in the fourth, including a three-pointer with 3:20 left in the game that trimmed the lead to nine, 47-38. It was too little, too late, however, as the Panthers sealed the game at the free-throw line (13-20 FT's in fourth quarter).
"We picked up the defense, pressured more and got some steals, but they shot really well from the free-throw line and made some three's to answer us," Coach Goltz said.
Malone poured in 18 season-high points – 13 in the second half – to go along with seven rebounds in Thursday 58-50 first-round win over Leyton. FCSH trailed 12-8 after the first quarter, but rallied with a 19-3 run in the second and led 31-16 at halftime.
Dunn finished with 13 points, six boards and four assists and Goltz scored 12 points, grabbed eight rebounds and blocked two shots. Fiegener also grabbed eight boards.
Sacred Heart finished ranked third and fourth by the Lincoln Journal Star and Omaha World Herald, respectively, after reaching their third consecutive state tournament. The five seniors, Niemeyer, Dunn, Goltz, Fiegener and Sean Strasheim – many of whom contributed their freshmen year – recorded a 65-19 record the last three seasons, finished with a 4-3 record at state and captured consecutive third-place finishes.
"It was a great run with them," Coach Goltz said of the fivesome. "I mean three state tournaments, two third-place finishes. It hurts knowing that two years in a row you got beat by the team that won it, but on the other hand I know we played a lot of good basketball the last four years. Al these guys contributed heavily."
Saturday Scoring
FCSH – Niemeyer 8, Dunn 23, Malone 13, Goltz 9, Scheitel 7, Fiegener 8.
S/SA – Stevens 15, Valasek 3, Glaser 12, Pfeifer 3, McKay 5, Haschke 3.
Friday Scoring
FCSH – Niemeyer 8, Dunn 8, Malone 8, Kean 3, Goltz 15, Fiegener 2.
B-R – Sjuts 15, Appleton 12, Zitek 6, Tietz 8, Peters 14.
Thursday Scoring
FCSH – Niemeyer 6, Dunn 13, Malone 18, Goltz 12, Scheitel 2, Fiegener 5, Jorn 2.
Leyton – Drew Brenner 1, Frerichs 5, Westman 3, Schuessler 2, Dylan Brenner 20, Cruise 13.