And the winner is…Goliath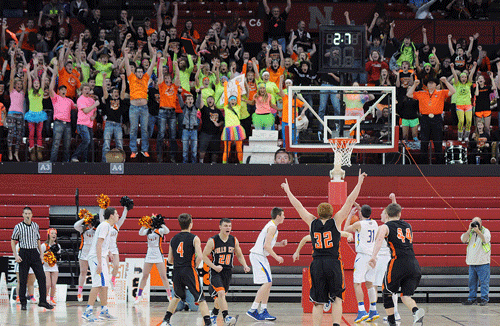 March Sadness – Falls City High School faithful experienced the highest of highs and – 2.7 seconds of game clock later – the lowest of lows last Thursday morning in a heart-wrenching 64-58 overtime loss to eventual state runner-up Wahoo in the Class C1 State Basketball Tournament at Lincoln's Devaney Center. Senior Mitchell Harling, just like he did in the final seconds of a dramatic district final championship victory over Lincoln Christian 10 days prior, gave the Tigers a 52-50 lead over the Warriors with just :2.7 to go. But Wahoo, celebrating the 25th anniversary of perhaps the greatest comeback in tournament history, saw a full-length inbounds pass get tipped into the waiting arms of Gavin Iverson, who put the ball into the hoop with two-tenths of a second remaining. FCHS went into overtime without Jack Hartman and Ryan Mount, each of whom had fouled out in the fourth, and then lost Harling, too, in the overtime period. Wahoo beat Wayne by 15 Friday to advance to Saturday's final, where it lost to cross-town rival Neumann. The Tigers finished with a school-record 24 wins to three losses and finished fifth in the final C1 rankings. Photo by Nikki McKim.
---
Two days after the 25-year anniversary of Wahoo's legendary comeback victory over Lincoln Pius X in the 1989 Class B state championship, the defending C-1 champions and sixth-seeded Wahoo needed another miracle Thursday morning at the Devaney Center to eek out a 64-58 overtime victory over third-seeded Falls City High in their first-round game of the state tournament.
After Wahoo junior Jake Scheef tied the game at 50-50 with 1:17 left in regulation, the Tigers held for the final possession. FC junior Weston Witt's drive attempt was knocked away out-of-bounds and on the following inbounds play, Tiger senior Tyler DiGiacomo found a wide-open Mitchell Harling cutting inside the right block for the go-ahead layup, seemingly leaving just 1.5 seconds on the clock. Seemingly, because following a pair of timeouts, when Wahoo set up to inbound the ball, 1.2 seconds had been added, and the lock read :2.7.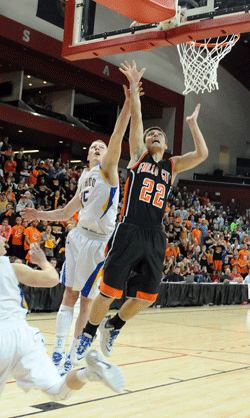 FCHS senior Mitchell Harling, just like he did in the final seconds of a dramatic district championship victory over Lincoln Christian 10 days prior, gave the Tigers a 52-50 lead over Wahoo with just :2.7 to go. But the Warriors saw a full-length inbounds pass get tipped into the waiting arms of Gavin Iverson, who put the ball into the hoop with two-tenths of a second remaining. The 10-time state champion Warriors, the defending Class C1 champs, beat Wayne by 15 the following day and Saturday finished runner-up to Wahoo Neumann in the title game. Falls City, meanwhile, was left to absorb and try to make sense of what was surely the most heartbreaking loss in all of its school's history. A history that was 2.7 seconds away from a rewrite Thursday morning. But come Friday, like every single day the past 51 years, FCHS was still seeking its first state tournament win since 1963. Fifty-one years is too long – 2.7 seconds too long, to be exact. Photo by Jason Schock.
 Wahoo freshman Jake Ruzicka heaved a baseball pass the length of the court that came down in a group of Tiger and Warrior players huddled near the free-throw line where it was tipped to Wahoo junior Gavin Iversen who was standing under the basket. Iversen reacted quickly with a game-tying, right-handed reverse layup as time expired.
"It's called a 'victory formation,'" Wahoo Head Coach Kevin Scheef said of the play after the win. "We're flying three guys down the court and hoping to catch the ball clean and get a shot. But if not, you're just looking to get a tip or a deflection, which again you can't diagram how that's going to look.
"There's great deal of luck involved, but sometimes at state you need some good fortune," Scheef admitted. "But what a great game."
Long-time Nebraska prep reporter and publisher of Huskerland Prep Report, Bob Jensen, sent the following tweet after the game: "Wahoo-Falls City will go down as one of Devaney's all-time state tourney classics. #gladiwashere"
Certainly no consolation for the Tigers, but those words, from a man who has watched as much high school basketball in the state as anybody, shed a little outside perspective on the performance from  both teams.
The Warriors capitalized on the momentum as Jake Scheef scored 10 of the 12 points in overtime and finished with 19 overall. His three with 2:20 left in the extra session gave Wahoo a 57-56 lead – their first since the 6:30 mark of the third quarter – they wouldn't relinquish. Jake's brother, Ben, a senior, scored a game-high 20 points before fouling out late in the fourth quarter.
The Brothers Scheef and Wahoo reached Saturday's Class C-1 championship game, but fell short against Wahoo Neumman, 68-47, and finished runner-up for the second time in three years. Both were named to the C-1 All-Tournament team, along with Grant Lahm, Columbus Scotus (6-0 Jr.), Austin Woita, Neumann (6-3 Sr.), Ben Simons, Neumann (6-0 So.).
Coach Scheef, the father of Ben and Jake, credited the gritty Tigers, who turned an early 12-point deficit into an eight-point lead in the third later in the third quarter.
"FC kids played really hard and really well," Coach Scheef said. "They make it tough. They are so deliberate that every possession is a big one."
The Warriors were in control early and led 17-5 six minutes into the game, but a pair of three-pointers from senior Tyler DiGiacomo and a six-footer in the lane by senior Mitchell Harling cut Wahoo's lead to 26-25 at halftime. 

    Falls City trailed 17-5 and was in danger of getting buried early, but senior Tyler DiGiacomo spurred his team with a pair of big three-pointers and a nice assist in the lane before half to make it a one-point game at intermission. Photo by Jason Schock.
FC quickly erased the deficit in the third when DiGiacomo found senior Reese Hogue cutting to the basket for a lay-in to put FC ahead 29-28 with 6:30 left in the third quarter. It was the Tigers' first lead since 1-0 at the start of the game. FC owned the third quarter and opened up an eight-point lead, 38-30.
But Wahoo slowly chipped away at the Tigers' lead in the fourth before the miracle play to end regulation.
FC, which scored eight of their 10 points in the first quarter at the free-throw line, finished 22 for 36 at the stripe, but were just 8-of-17 in the final period and overtime, while Wahoo converted 22 of 31 FT attempts. Harling, junior Jack Hartman and senior Ryan Mount all fouled out for FC, while Ben Scheef and Josh Langmeier were disqualified for the Warriors after a total of 48 fouls were called – ten more than any of Thursday's first-round games in all six classes, including a Class A triple-overtime game between Norfolk and Omaha South.
For the Tigers, another successful season ended all too soon.
"They're broken, but there is a lot of heart in that locker room," a dejected FC Head Coach Don Hogue said. "Our kids battled and I'm proud of them. We could have given up several times and didn't."
Asked about the final play of regulation, Hogue simply could not find the words. "Well, you know," he began, then a long, deafening pause. His silence, replicated by a handful of reporters, said it all.
FC finished the season with a school-record 24 wins and three losses. It was the second-straight 20-win season for the Tigers – also a school record – and second state appearance in five years.
FC was led by junior Jordy Stoller who finished with 16 points, including 12 of 16 free throws, and led a tenacious defensive effort with four steals. Harling finished with 10 points and seven assists before fouling out for the first time all season in overtime. Witt added seven points and Hogue led a dominant FC rebounding performance – 35 to 23 – with 12 boards.
In their four years, Tiger seniors DiGiacomo, Harling, Hogue, Mount, who scored five points in his final game, and Cody Schawang were a part of three district finals, one district championship, two district runner-ups, one state tournament berth and 75 victories, setting a new mark – one better than the Class of 2013 – for most wins in a four-year stretch.
Scoring
FC – Stoller 16, DiGiacomo 10, Harling 10, Hartman 5, Mount 5, Witt 7, Jordening 2, Hogue 3.
Wahoo – B. Scheef 20, Zetocka 2, J. Scheef 19, Ruzicka 4, Iversen 10, Nadrchal 9.