17-0 run propels Lady Irish past Wauneta-Palisade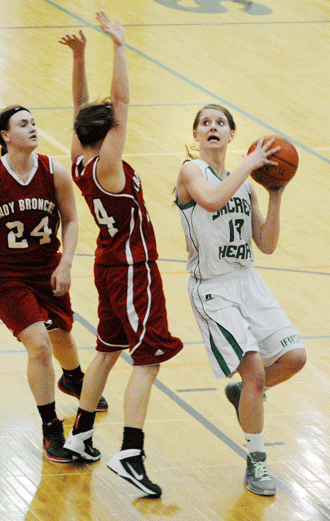 Sacred Heart junior Elizabeth Magdanz drives around Wauneta-Palisade's Brianna Einspahr for two of her game-high 12 points as part of the Lady Irish's 45-25 victory Thursday morning. Magdanz scored 9 of her 12 points in the first half of the Class D-2 first-round game at Lincoln Southwest. Photo by Jason Schock.
 Falls City Sacred Heart used a 17-0 third-quarter run and shutout Wauneta-Palisade in the fourth in a 45-25 victory Thursday morning at Lincoln Southwest High School in the first round of the Class D-2 girls state basketball tournament.
The top-seeded Lady Irish led the Lady Broncos 23-19 at halftime behind 9 first-half points from junior Elizabeth Magdanz, who finished as the game's leading scorer with 12. Abby Magdanz and Maggie Goltz each added 10 points for FCSH, while Alexis Barnes scored seven, Haylee Heits chipped in four and Jade Hill rounded out the Irish scoring with two.
Wauneta-Palisade was led by senior Tailor Lee's 10 points, which was three shy of her season average.
FCSH improved to 26-2 on the year and in doing so, set a new school record for most wins in a season. They advanced to Friday's 7 p.m. semifinal where they will take on the winner of No. 4 seed and three-time defending D2 champions Wynot (21-6) who defeated on No. 5 Bancroft-Rosalie, 56-39, Thursday morning.
Friday's contest between top-ranked Sacred Heart and fourth-ranked – a rematch of an opening round game two years ago – will be played at Devaney Sports Center.
View more photos from Thursday's game at www.schockimagery.com