FC counters Crusaders' Power with toughness, advances to State Tournament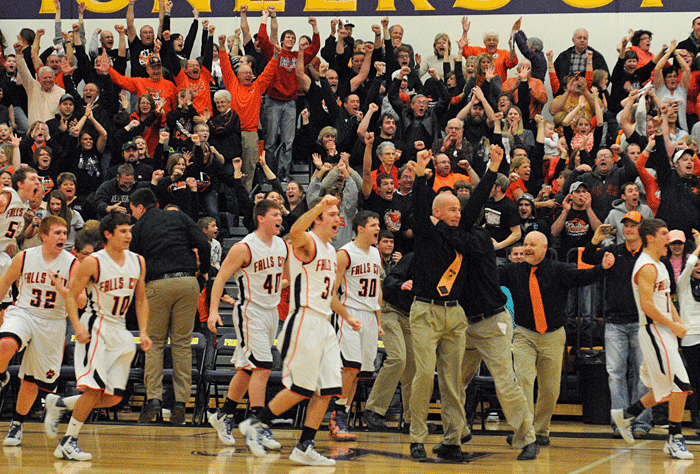 ---
Late last night, almost immediately after pulling back into Falls City from quite possibly the greatest road trip of his life, FC High Head Boys Basketball Coach Don Hogue stopped at The Journal office for one last (quick) post-game interview (he kept the truck running).
He'd already given the folks in radio, TV and state newspapers his valuable time – some of the most valuable time of his life, nonetheless. Friends and relatives, some 800 or 900 according to a reporter's unscientific and mostly baseless guess, wanted hugs and handshakes. They got them, too, but a good many had to wait while he answered a few questions and explained this scheme and that shot, etc. Maybe even confirmation to the listeners at home (but who didn't go to that game?!) that what they'd just heard was, in fact, what they'd just heard.
He graciously stopped at the local paper to do it all again, to try and explain just how his team pulled the upset of mighty Lincoln Christian 37-36 in the Class C1 District Final, thus punching the Tigers' trip to state for just the second time in 51 years. How did they destroy one of biggest and perhaps the best frontcourt in Class C1 on the glass, 25-16? How did his team limit Logan Power, Lincoln Christian's 6-4 All-State forward to seven field goal attempts and 11 points, 10 fewer than his season average? How does your sixth man, Weston Witt, come off the bench, drill four threes and finish with a game-high 16 points?
How were they not intimidated? It was Christian that ended their season in this very gym one year ago. It was Christian who handled them in football twice last fall. It's Christian who gets all the ink.
And did they take kindly to some Crusader player's Tweets earlier that day alluding to the country bumpkins they were about to crush down thar in Nebraska City?
And then, "how does it feel, right now? How does it feel that your son (Reese, a senior) is along for this amazing ride – a 24-2 season that includes you becoming the school's all-time winningest basketball coach and taking another team to the state tournament?"
Tears welled up in his eyes.
"It's unbelievable," he said. "We're on quite a ride. It's just unbelievable, it really is."
The ride continues after a 199th coaching victory. The sweetest victory, no doubt, of them all. For now, that is. Monday's historical upset is one worth reflection, but only for a moment as Hogue and the Tigers now must prepare for a state tournament they should aim to win.
In defeating second-ranked Lincoln Christian, C1's No. 1 team up until three weeks ago, Falls City not only earned a trip to state, but also now has to be considered a legitimate title contender. That "soft schedule" talk went out the window in the span of 7.2 seconds Monday night, beginning when senior Mitchell Harling drove to the hoop and scored the winning basket over Jared Buback – all 6-foot-5, 225 pounds of him – and ending when the Tiger defense thwarted Christian's attempt to the steal it at the buzzer. The points were Nos. 1,004 and 1,005 of Harling's career. And certainly the biggest.
"These kids work very hard. They play smart and do exactly what we ask them to do. Tonight, they rebounded extremely well," he said.
Wow, did they ever. Falls City surrendered two offensive rebounds to a team accustomed to taking second chances.
"Most of their games, they were getting 10, 11, 12 offensive boards per night," Hogue said.
That said, the Tigers' team goal Monday was not to allow a single offensive rebound. They came close, thus held Christian to its lowest scoring output of the year.
Still, you have to score points to win, too, and Falls City got much of its offense from the bench. Junior Weston Witt is FC's sixth man and, today, its MVP.
Witt's shooting enabled the Tigers to stay in the game early, when Christian on three different occassions threatened to build on two-possession leads. One three-pointer tied the game at 12 (it was Witt's seventh point) and he drained a buzzer-beater before intermission to cut LC's lead in half, 18-15.
"Weston is good enough to start, of course. But when he comes off the bench, a lot of times teams, especially early on, give him some space. And he's a gamer," Hogue said.
At halftime, FC's Red Menace had twice as many points as the all-everything Logan Power. Witt's third trey came midway through the third quarter and was followed by a tough inside bucket by senior Ryan Mount that gave FC a 27-23 lead.
But although Bubak drew his fourth foul some 30 seconds into the fourth quarter, with FC up three, 30-27, Christian came dangerously close to taking ownership of this one with about six minutes to play when Power picked off a pass, slammed it home and energized a crowd previously drowned out by people in orange. But with the one-point lead, Hogue declined advice from his bench to take a timeout in an attempt to settle things down. It turned out to be a masterful coaching stroke – perhaps the most pivotal call of the night. Instead, they played – and junior Jack Hartman answered with a takeaway and gimmee of his own, taking the lead back up to three, 32-29.
"After (Powers) got that dunk, I didn't want the kids to get into the mode of 'oh, no, it's happening again.' Why let a dunk bother us? It's two points. We scored right away and the dunk was ancient history," Hogue said.
Falls City would lose the lead twice down the stretch. First, with 4:32 remaining, when Power scored to make it 33-32. Moments later, FC answered – and guess who? Witt, his fourth and final three-pointer and the Tigers were up 35-33 inside of the final four minutes.
With 2:50 to go, LC's Evan Mathers drained a three, putting FC down one. The Tigers controlled the clock the rest of the game, missing one three-pointer. Hogue said they weren't purposely using clock, but patiently waiting for the right time to attack.
It came at :7.2 and the tougher team won.
"It's character, is what it is," Hogue said, his voice faintly cracking. "I'm very proud of this team. And we're not done."
Scoring vs. Lincoln Christian
FC – Witt 16, Stoller 8, Hartman 4, Harling 4, Mount 3, DiGiacomo 2.
LC – Power 11, Mathers 10, Bubak 5, McGerr3, Chicoine 3, Dworak 2, Grothaus 2.