Sacred Heart likely No. 1 seed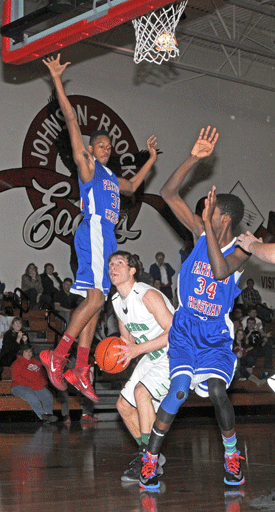 Second-ranked Falls City Sacred Heart got back to basics last Thursday in their 71-61 victory over No. 9 Lincoln Parkview Christian.
The Irish, now 23-3, grinded out a 45-44 victory over the Lewiston Tigers last Tuesday in the first round of subdistricts, but committed 19 turnovers (one shy of their season high against Freeman on Dec. 30) and had their worst shooting performance of the season at just over 37 percent – 12 below their average of 49 percent.
Thursday against the upstart Patriots, the Irish regained their identity and finished 20 for 37 from the floor (54.1 percent) and turned it over 11 times – one under their season average.
Irish senior Chaz Dunn, who  finished 1-for-12 from the floor against the Tigers, had a career night against the Patriots, finishing with 28 points on 8-of-8 shooting from the floor and 12 of 14 from the free-throw line.
Senior Colin Niemeyer followed up a team-high 17-point performance Tuesday – which included four three-pointers – with 11 points, including 6-for-7 from the line, while senior Matt Goltz became the 13th player in school history to eclipse 1,000 career points. Goltz totaled 11 points and 11 rebounds – his sixth double-double of the season – against LPC, after posting nine and eight against the Tigers. Junior Austin Malone was also in double figures against LPC with 11 points.     
FCSH drained and eye-popping 29 of 39 free-throw attempts against the Patriots, which accounted for a 17-point differential and they were 22 points better than their 7-for-12 free-throw performance versus Lewiston.
"It's difficult playing the same team four times in the same season," FCSH Head Coach Doug Goltz said about the win over Lewiston, a team the Irish have faced seven times in the last two seasons. "They are scrappy. We didn't shoot the ball well and turned it over too many times."
Nonetheless, the Irish handled their business and advanced through the subdistrict in Johnson and tonight at 7 will take on No. 1 Exeter-Milligan at Norris Middle School in Firth for the district championship. It is also a rematch between the two Class D state football champions who met on the hardwood in January during the MUDECAS tournament, a game the Irish won 46-43 in overtime.  
"They are very athletic and have some very strong kids," said Goltz about his team's opponent tonight. "They jump well and get to lots of loose balls and rebounds. We need to do a better job this time in that area."
The Timberwolves – winners of 13-straight – haven't lost since that Jan. 16 night against the Irish, a game that saw them pull down 21 offensive boards, outrebound FCSH 38-23, but only shoot 28 percent from the floor and 2-for-15 from behind the arc.   
Currently atop the wildcard standings, Goltz and company appear to be locked into the top seed of the D-2 state tournament bracket, although Goltz, who is guaranteed a spot in 14th state tournament Mar. 13-15 in Lincoln, hesitated when asked if his team had clinched the one seed.
Goltz pointed to Bancroft-Rosalie and their identical 23-3 record as a potential top seed. The Irish currently hold a 0.0385 point lead over B-R in the standings, so an Irish loss to the Timberwolves and a win by B-R over 24-1 High Plains could shake things up.
"A good team is not going to make it," Goltz said, noting six of the top teams are playing in three district finals. "Exeter-Milligan is a great team and have been playing very well. We will need to play a complete game."
Scoring vs. Parkview Christian
FCSH – Niemeyer 11, Dunn 28, Malone 11, Kean 1, Goltz 11, Scheitel 3, Fiegener 6.
LPC – Morris 15, D. Ngoyi 12, Polivka 4, Smith 26, Iyagbaye 2, Rogers 2.
Scoring vs. Lewiston
FCSH – Niemeyer 17, Dunn 4, Malone 8, Jorn 1, Goltz 9, Scheitel 6.
Lewiston – Singleton 21, Albers 3, Dvorak 2, Novzovsky 13, Speckmann 5.